Sorensen handed Ireland call-up for Hong Kong Sixes
Last updated on .From the section Cricket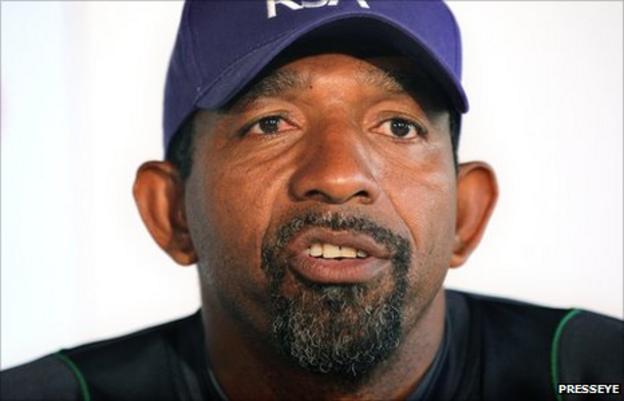 South African-born all-rounder Max Sorensen will make his Ireland debut in next month's Hong Kong Sixes.
Sorensen, 25, is cricket development officer at The Hills Club in Dublin.
"I was a little astounded to be given the call but I'm determined to give it my best shot," said Sorensen, who has been in Ireland since 2007.
Kevin O'Brien will captain the squad while his brother Niall, Paul Stirling, Alex Cusack, George Dockrell and John Mooney are also included.
Sorensen played at Under-19 level for the Gauteng province in his native South Africa and after two years in the Kent League in England, then joined The Hills as their overseas player in 2007.
"I've trained with the squad a few times and they're an awesome bunch of guys to be around," added Sorensen.
"There's serious talent in Irish cricket but I'm hopeful I can prove that I can bring something extra to the squad.
"I feel my brand of cricket is suited to this type of fast action and with the T20 World Cup qualifiers and also of course the ICC one-day league leading to the World Cup, I'm aware there are serious opportunities ahead.
"It's a great honour to get the chance to play for Ireland and I'm determined not to let this wonderful chance slip."
Ireland coach Phil Simmons has no fears about putting Sorensen into the squad for the Hong Kong event which takes place at the Kowloon Cricket Club from 28/30 October.
"We'd have liked to have given him a run out in the development squad this summer but ran into visa issues, which have now been sorted out.
"He's getting married to an Irish girl and has been here over four years now so he can also play in ICC tournaments.
"It's a perfect platform for us to get a look at Max and see how he makes the step up.
"From what I've seen, he's exactly the type of cricketer I'm looking for.
"He can bowl quick, hits the ball far, and is an exceptional fielder who is supremely fit."
Ireland have been drawn in Pool B along with Australia, Bangladesh and England with the exact order of fixtures still be announced by the Hong Kong organisers.
Ireland squad: Kevin O'Brien (capt), Alex Cusack, George Dockrell, John Mooney, Niall O'Brien, Max Sorensen, Paul Stirling