Trescothick wins PCA player of year award
Last updated on .From the section Cricket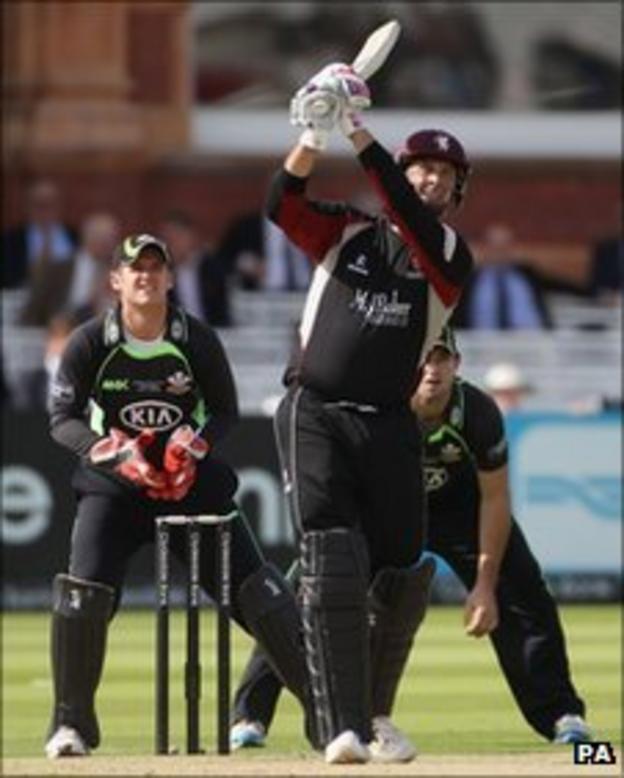 Somerset skipper Marcus Trescothick has been crowned as the Professional Cricketers Association's Player of the Year for the third time.
The former England opener, who won the award in 2000 and 2009, again captained his team to two one-day finals.
Trescothick amassed 2,518 runs in all forms of cricket to finish as the leading scorer in English cricket.
Nottinghamshire's latest England recruit Alex Hales was named as PCA Young Player of the Year.
Hales, 22, who earned an England call-up for the end of season Twenty20 clash against India, passed 1,000 runs in the County Championship for the first time.
He also demonstrated his all-round game by hitting 544 runs in the FL t20, making 1,833 runs in all cricket.
The prolific Trescothick, 35, emulates the great Sir Richard Hadlee by becoming only the second player in the PCA's history to win the award three times.
And that at least helps make up for the fact that Somerset once again fell short in all three competitions this year, losing both the FL t20 final to Leicestershire and then the CB40 final to Surrey at Lord's, while fading late on in the County Championship.
But they do still at least have the chance to atone in the current Champions League Twenty20 in India.
Somerset, without Trescothick, have so far won two qualifying matches to reach the main draw.
2011 PCA AWARDS
Player of the Year: Marcus Trescothick (Somerset)
Young Player of the Year: Alex Hales (Nottinghamshire)
County Championship Player of the Decade: Mark Ramprakash (Surrey)
CB40 Player of the Year: Chris Nash (Sussex)
FL t20 Player of the Year: Andrew McDonald (Leicestershire)
Sixes League: Darren Stevens (Kent)
England Most Valuable Player of the Summer: Alastair Cook (Essex)
One-day international Player of the Year: Stuart Broad (Notts)
Umpire of the Year: Michael Gough
ECB Special Award: Patrick Eagar
PCA Special Merit Award: Jack Bannister
Team of the Year 2011: Alastair Cook (Essex & England), Marcus Trescothick (Somerset), Chris Nash (Sussex), Alex Hales (Notts), Darren Stevens (Kent), Steven Davies (Surrey), Samit Patel (Notts), Chris Woakes (Warwickshire), Jimmy Anderson (Lancashire & England), David Masters (Essex), Monty Panesar (Sussex).