Runners outlawed from internationals by new ICC rules
Last updated on .From the section Cricket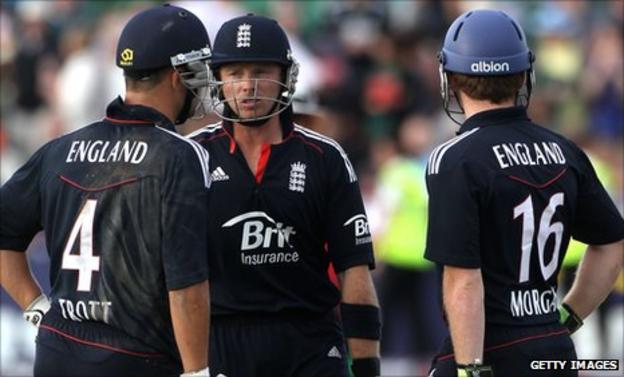 Runners will no longer be allowed in international cricket after a number of changes to the playing conditions came into force on 1 October.
The use of runners for injured batsmen had been debated after some had called for runners while suffering with cramp.
A new condition clarifies when a player can be out obstructing the field.
In one-day internationals, one ball will be used from each end, rather than it being changed after 34 overs, while the rules governing powerplays change.
The International Cricket Council (ICC) board had ruled in June that changes would be implemented from 1 October.
But the game's world governing body has stressed that the laws of cricket - which remain administered by the Marylebone Cricket Club (MCC) - have not changed, merely the playing conditions for internationals, so runners will remain in domestic and recreational cricket.
Powerplays restrict the number of fielders permitted outside the 30-yard fielding circle in limited-overs cricket, and the 10-over compulsory powerplay at the start of an ODI innings (with a maximum of two men outside the circle, with at least two in catching positions) remains unchanged.
However, the other two five-over powerplays, with a maximum of three men outside the circle - whose timing is decided by the fielding and batting side respectively - must now be taken between the 16th and 40th overs, although this does not apply to ODIs reduced to less than 40 overs.
The "one ball from each end" regulation was previously used at the 1992 World Cup.
The "obstructing the field" regulation attempts to enhance Law 37 without replacing it - noting that a batsman who has "significantly changed his direction without probable cause" to obstruct a fielder's attempt to run him out should be given out.
That applies to all international cricket, as does a change to the conditions governing when a non-striker can be run out by the bowler when he is backing up.
Previously, this could only happen before a bowler enters his delivery stride, allowing a non-striker to move down the wicket as soon as the bowler's back foot landed.
But the bowler is now permitted to attempt a run-out before releasing the ball and "provided he has not completed his usual delivery swing".
Other timing changes allow lunch or tea in a Test to be delayed by 15 minutes (a minimum of four overs) if the umpires feel a result can be achieved, while the lunch interval in a Test will be delayed for up to 30 minutes if a side is nine wickets down (as is currently the regulation for tea), and the minimum interval between innings in an uninterrupted ODI is increased from 20 to 30 minutes.
Amendments to ICC playing conditions in full (external site)