Richard Scott keen for Hampshire return in the future
Last updated on .From the section Cricket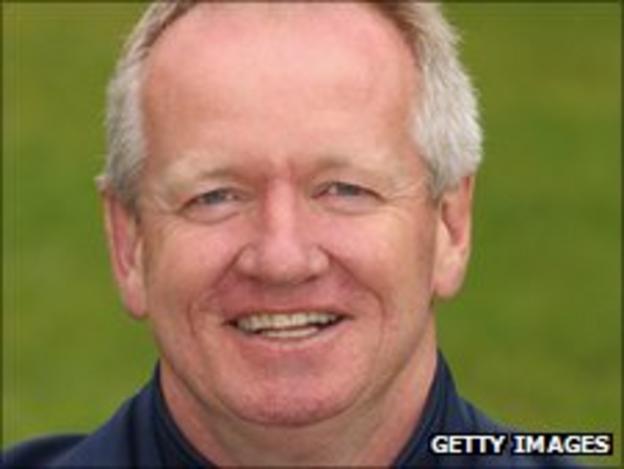 Former Hampshire batsman Richard Scott - who guided Middlesex to the County Championship Division Two title this season - says he would like to manage the county at some point in the future.
Bournemouth-born Scott, who played for Hampshire for five seasons in the 1980s and 90s, managed Middlesex for a full season for the first time this term.
Hants are currently led by Giles White, whose job is safe despite relegation.
"It would be a very proud moment for me," Scott told BBC Radio Solent.
Left-handed batsman Scott played for Hampshire between 1986 and 1990.
Scott then played for Gloucestershire between 1991-93 and then returned to minor county side Dorset and retired in 1998.
He was coach at Dorset when they lost the one-day minor counties knock out cup final at Lord's in 2006.
Scott said he was an interested observer throughout the season and was upset to see Hampshire's demise to Division Two.
"It is very sad really. They obviously had a good run in the Twenty20 but couldn't pull if off on finals day and it very sad that they have gone down to Division Two," said Scott.
"Hopefully they will re-gather and take stock and bounce straight back next year. It is a hard division to get out of but I think the have a talented young squad and with a couple of good signings I don't see why they can't bounce back.
"But it is a sad moment for me because the club is close to my heart and I don't want to see them in Division Two."
Scott says Middlesex had a very simple game plan last season, but it worked and helped them gain promotion.
"Crucially you have to get off to a good start to the season because then everyone relaxes and starts to play their own game," said Scott.
"We had a game plan where we wanted to get 300-plus on the board and that worked and we had a seam attack that could take 20 wickets and ultimately that worked.
"It would be a very proud moment for me [to return]. I still live in Wimborne and as I said before Hampshire is very close to my heart and I always look out for their results.
"Ultimately I'm loving what I'm doing at Middlesex but, yes, it would be great one day and help them achieve what they want to."