England tour of India: Success on the subcontinent?
By Stephan Shemilt
BBC Sport
Last updated on .From the section Cricket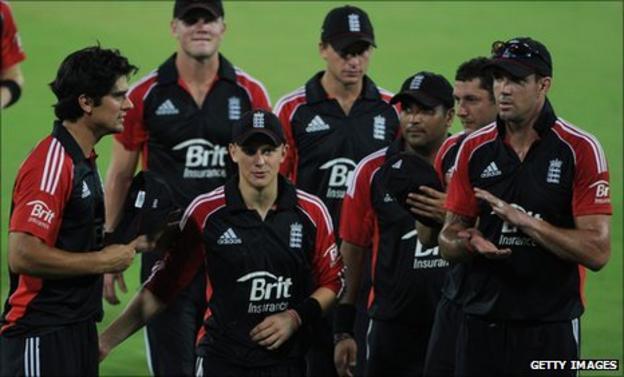 England begin their winter programme on Friday with the first of five one-day internationals in India.
However, despite being robbed of the services of Sachin Tendulkar, Virender Sehwag, Yuvraj Singh and Zaheer Khan because of injury, the world champions will be a much tougher proposition on their home turf.
England will also be without some of their first-choice line-up, with Stuart Broad and Eoin Morgan both missing out with shoulder injuries, and James Anderson rested.
Former England captain Alec Stewart analyses how the tourists will have to adapt to the conditions in the subcontinent and where the series will be won and lost.
THE ENGLAND SQUAD AND THEIR PREPARATION
"I think this England squad covers all bases. In the batting they've got two solid players in Alastair Cook and Jonathan Trott, and more adventurous players in the shape of Craig Kieswetter and Kevin Pietersen.
"Samit Patel, Scott Borthwick and Graeme Swann cover the spin options and they have the pace of Steven Finn, the canny bowling of Jade Dernbach and that's without mentioning Tim Bresnan.
"The selectors have half an eye on the 2015 World Cup but, like they've done with the Test side, they pick people who are good enough and ready to play, who they know will grow and develop on the international scene.
"To be able to rest James Anderson, not have the injured Stuart Broad and Eoin Morgan and still feel you're ready going in to the first game is a credit to their strength in depth.
"Every time England play, wherever they go, they take it seriously, whether it's a full international or a warm-up game. They've had a long time out there before the first game, and that's how it should be."
THE CONDITIONS
"It's going to be very different to what England are used to because they will play on pitches that are tailor-made to suit the home side. You will not see much grass on the pitches because India will want to play to their strengths, which are playing on slow, lower tracks.
"Swann will have a big part to play because he's a handful anywhere in the world, even against the very best players.
"England also have more big hitters in their squad from the side that fell in the World Cup quarter-finals, so the performances of Kieswetter, Pietersen and Jonny Bairstow could be important."
SELECTION
"Bairstow's hundred in the warm-up game on Tuesday has given Cook and Andy Flower the sort of headache you want when you are picking a team. It's nice to have tough decisions to make, wondering how you are going to fit 13 or 14 men into the 11 slots.
"With Samit Patel likely to bat at number seven as the second spin bowler, Bairstow is forcing Cook and Flower to choose between seven batsmen for six slots.
"Of the batsmen that have played both warm-up games, Pietersen has been the only one who has failed to contribute but he is a world-class cricketer and I would be very surprised if he does not play.
"To me, you should always do what the opposition would least like you to do, and India will be very happy if Pietersen doesn't play."
WHAT TO EXPECT FROM INDIA
"England outplayed India in the summer in all forms of the game, so India will want to show England and the rest of the cricket world that they are still a dominant force on home territory.
"India are a very proud nation and their fans will be expecting them to win.
"It's going to be hard work for England, especially for some of the newer players, because there will be situations with the crowd and the atmosphere that they have never experienced before.
"Most will say that India will start as favourites because they are at home, but I still have a good feeling about the way this England side is moving forward under Cook's captaincy."
THE VERDICT ON ENGLAND'S CHANCES
"When you play away from home it is all about how you adapt to the conditions and the better sides adapt more quickly.
"I'm expecting England to put in a good performance because they are a very confident group. The competition for places heading into 2015 is very good so everyone has a lot to play for both for now and the near future.
"You can not predict what will happen but I expect England will be very competitive."