Alastair Cook unhappy with England fielding in India series defeat
Last updated on .From the section Cricket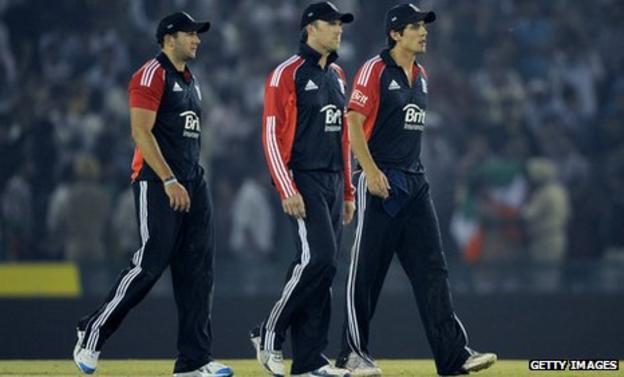 England captain Alastair Cook admitted his side's fielding must improve after they lost the one-day series in India.
Cook, who was dismissed for three, said: "Our fielding has been slightly below par on this tour, which is very unusual for us.
"It cost us 20-25 runs in field - and that was probably the difference between the two sides."
He said of the third game of the series: "The batting was better and I thought we bowled better. It was mistakes in the field that cost us.
"I can't put my finger on why but, in the last three games, we haven't done what we normally do in the field.
"In the last two or three years, in all forms of the game, we have been an outstanding fielding side and I'm sure we can get back to that again."
England had scored an imposing 289-4, but India captain Mahendra Dhoni kept his cool at the death to scramble the home team to victory with four balls to spare.
Cook credited Dhoni, saying: "Credit to MS. The way he hit the ball at the end, he's done it time and time again to us.
"It's probably not just us, it's bowlers all over world cricket. He's a great finisher and he finished it again for them.
"It's a tough defeat to take, especially when it's so close. If you are hammered it's almost easier.
"We've stepped up our performance in the last two games - but it's tough to take when you are so close."
England's remaining games in this series are in Mumbai on Sunday and Kolkata Tuesday
And England opener Cook said that his side are capable of handling games in India better.
"I think the skill is there to handle these conditions, " he added. "The talent is there but for some reason, in these three games we haven't produced it. Why, I don't know.
"I don't think there is a magic answer; we just made too many mistakes to win a game against a world-class side.
"We haven't made those mistakes up until this series. It is frustrating."