India captain Mahendra Dhoni questions England attitude
Last updated on .From the section Cricket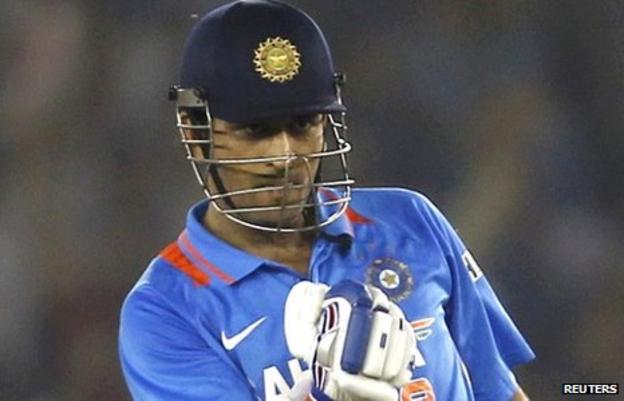 India captain Mahendra Dhoni questioned England's attitude following his team's five-wicket win in the third one-day international that secured the series.
Some England players were warned about behaviour in Monday's second match but the aggression continued in Mohali.
"A bit of chit-chat is fine, that makes the game interesting," Dhoni said.
"You don't always want a friendly series, as long as things don't get too personal but I think they should change the plan for the next two games."
Dhoni also intimated that England had been arguing amongst themselves during their latest defeat, which ended skipper Alastair Cook's unbeaten run of three one-day series victories
"It's very important to be nice to your fellow team-mates," Dhoni said. "There were lots of gestures flowing around in the field when it comes to the England side.
"When you are under pressure, most of the individuals will definitely commit mistakes.
"These are the things that really shape the character of the side. I think their strategy is not working. That's what's happening right now."
England arrived in India full of optimism having comprehensively beaten Dhoni's team in all forms of the game on home soil during the summer.
However, familiar difficulties with sub-continental conditions ensured they remain without a one-day series victory in India since 1984.
"It's not only about 'giving it' to the opposition. You have to be fair," Dhoni said of the English team's conduct.
"If our players are saying something to the opposition - which happens at times - I don't want them to get really personal or say things that are not within the guidelines."