England bowler Tim Bresnan fined for dissent by ICC
Last updated on .From the section Cricket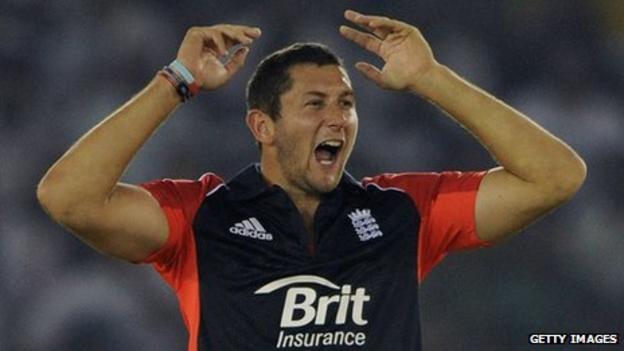 England bowler Tim Bresnan has been fined 7.5% of his match fee for showing dissent during Thursday's third one-day international against India.
The seamer was charged following an incident at the end of the 18th over in Mohali when he snatched his cap from on-field umpire Sudhir Asnani.
Bresnan pleaded not guilty to the charge but an International Cricket Council hearing found against him.
England lost by five wickets and India now lead 3-0 in the five-match series.
Roshan Mahanama of the Emirates Elite Panel of ICC Match Referees said in a statement: "The umpires deserve the utmost respect not only because they do a difficult job in the middle but also because millions of budding and aspiring cricketers watch every move of the players.
"This makes all the international cricketers more responsible and accountable for their actions, particularly in their dealings with the umpires in various match situations."
The remaining games in the five-match series will take place in Mumbai on Sunday and Kolkata on Tuesday.
The tourists will also play a one-off Twenty20 international in Kolkata on 29 October.