Hampshire all-rounder Liam Dawson returns home
Last updated on .From the section Cricket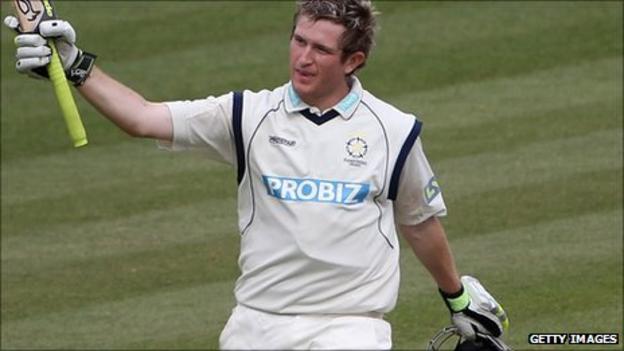 Hampshire's Liam Dawson has returned home early from his winter stint at the Mountaineers franchise in Zimbabwe.
The 21-year-old all-rounder played only one game for his new side before deciding the lifestyle was not for him.
Dawson, who went to Zimbabwe to improve his left-arm spin, scored a century on his debut and also took seven wickets.
"I'm back in England, I couldn't really get to grips with the lifestyle out there, it wasn't really for me," Dawson told BBC Radio Solent.
Dawson impressed this summer in his first season of opening the batting, scoring over 900 first-class runs for Hampshire.
"It was different. There was no electricity a couple of times a week, no lights and it is very third world," added Dawson, who was due to return in five months.
"But the people are lovely, the cricket club I was at were lovely people, but the trip just didn't suit me."
Dawson was based in Mutare which is three hours from the capital Harare and four from Bulawayo - the second largest city in Zimbabwe.
"I was in the bush and it was quite a long way from a lot of things so it would have been a lonely five months had I stayed.
"There wasn't really much to do, obviously we played one game of cricket and then didn't have another game for 18 days so it was a bit of a lonely time."
Dawson, who suffered a groin injury in Zimbabwe, says he will now stay in Hampshire until Christmas before heading to Melbourne or Perth in Australia in search of more winter cricket.
"I did well in the one game I played, I scored a hundred and bowled well which is the main thing I wanted to concentrate on this winter," he said.
"I'll be working really hard on my bowling at the Rose Bowl now to try and get myself into that all-rounder spot for next year."