Michael Vaughan on England's rollercoaster year
By Sam Sheringham
BBC Sport
Last updated on .From the section Cricket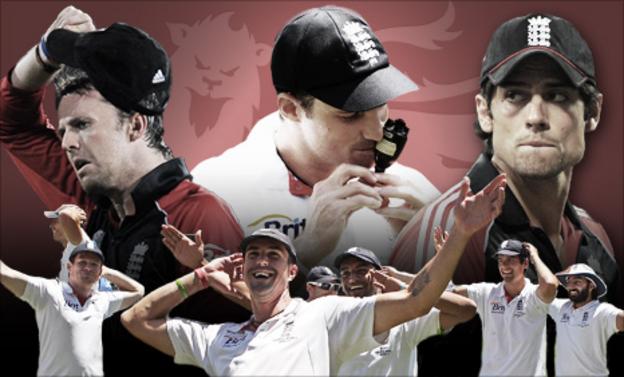 England's cricketers have hung up their spikes at the end of a rollercoaster year, which featured a historic Ashes triumph down under, World Cup misery, thrashing India to go top of the world Test rankings and a one-day humiliation in the subcontinent.
With analysis from former England captain and Test Match Special pundit Michael Vaughan, we look back on the highs and lows of 2011.
ASHES GLORY: NOVEMBER 2010-JANUARY 2011
Andrew Strauss's men did not merely defeat Australia in their own backyard, they inflicted total humiliation on their oldest rivals to come home with the Ashes for the first time since 1987. Such was England's dominance that by the end of the series, Australia's famously cocksure supporters were conspicuous by their absence. Instead, the Sydney Cricket Ground - venue for the fifth and final Test - became England's party palace, with the players performing the sprinkler dance on the outfield as the Barmy Army's songs and chants echoed around the arena.
Vaughan's verdict: "Going into the new year 2-1 up in the Ashes, the big question was could England string two big performances together? After winning in Melbourne, there was always that vulnerability of arriving in Sydney and not performing. But the manner of their victory in Sydney was outstanding. I always expected them to beat that Australia side but the surprise was the manner of the three victories. They hammered them playing great cricket, with great support and good parties."
WORLD CUP WOE: FEBRUARY-MARCH
England's Ashes bubble had already been burst by a 6-1 drubbing in the one-day series in Australia, but worse was to follow at the World Cup in the subcontinent as Strauss's team suffered abject defeats by Ireland and Bangladesh in the group stage. Patchy victories over the Netherlands, South Africa and West Indies saw them scrape through to the quarter-finals, whereupon they were royally spanked by Sri Lanka.
Vaughan's verdict: "I never expected England to win the World Cup, because playing in the subcontinent is so tough and England have been inconsistent in one-day cricket for 20 years. But losing to Ireland and Bangladesh must have sent shockwaves through the management. They got knocked out in the quarter-finals and that is probably about par for where England are in one-day cricket. They need to become smarter and cleverer in terms of the way they bowl and the way they bat."
INDIAN SUMMER: MAY-AUGUST
After beating Sri Lanka 1-0 in a rain-hit series notable only for the tourists' astonishing implosion in Cardiff, England set about the task of knocking India off their perch at the top of the Test rankings. With only Rahul Dravid offering any significant resistance, England were rampant once again, grinding the increasingly demoralised tourists into the ground with a string of outstanding displays. With Stuart Broad, Ian Bell, Matt Prior and Tim Bresnan playing the cricket of their lives - and the rest not far behind - they stormed to the number one position and wrapped up a 4-0 whitewash.
Vaughan's verdict: "England played a good brand of cricket and were very consistent but I was very disappointed with India. I thought they were terrible throughout the whole summer; they didn't look like they wanted to be here in the Tests and didn't show any passion, commitment or desire. As soon as Zaheer Khan limped off the pitch on that first day at Lord's, India had no chance because you have to take 20 wickets and they didn't have any kind of bowling. I expected England to win that series comfortably but not 4-0."
ONE-DAY MISERY: OCTOBER
England followed up their Test series win with a 3-0 victory in a rain-affected one-day series, but were comprehensively brought back down to earth by a 5-0 humbling in India. The technical deficiencies of England's batsmen were brutally exposed by the home side's spinners on slow, turning pitches, while India skipper Mahendra Dhoni stuck the knife in with some awe-inspiring batting displays.
Vaughan's verdict: "Eoin Morgan and Stuart Broad were massive losses but I still don't think they would have made a huge difference because England just weren't at the races. They just have not got it right overseas in one-day cricket. They have a year to discover a brand of cricket that works in the subcontinent because next winter they go to India again. They need to become smarter and cleverer in terms of the way they bowl and the way they bat."
LOOKING AHEAD TO 2012
The next 12 months look certain to test England's credentials in all forms of the game. They face trips to and in the new year before hosting and in the summer and heading to Sri Lanka in September for
Vaughan's verdict: "With the side England have I see them continuing where they left off in the summer. They have the best spinner in the world, three or four guys who can bowl at 90mph and a very strong batting line-up that is very difficult to bowl out twice.
"However, the next 12 months are going to be the real challenge because they play nine Test matches in subcontinental conditions. You only stay at number one by winning every series and I think it will be very difficult for the England team to still be number one by the end of 2012. If England are still top of the pile in a year's time then we can start talking about them being up there with the greatest England sides."