Ramiz Raja wants lifetime bans for convicted Pakistan cricketers
Last updated on .From the section Cricket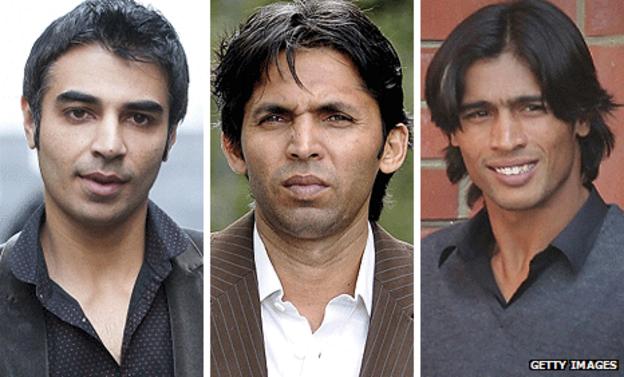 Former Pakistan captain Ramiz Raja has told BBC Sport the three cricketers found guilty of spot-fixing should never play for their country again.
Pakistan trio Salman Butt, Mohammad Asif and Mohammad Amir were found guilty of conspiracy to cheat and conspiracy to accept corrupt payments.
They plotted to deliberately bowl no-balls during a Lord's Test match against England in August 2010.
"I think they should be booted out for good," Raja told BBC Radio 5 live.
Butt, 27, Asif, 28 and Amir, 19, were charged after a tabloid newspaper alleged they were involved in a plan to bowl deliberate no-balls.
In February, all three players were banned by the International Cricket Council (ICC) over the affair - Butt for 10 years, with five of them suspended, Asif for seven years, with two suspended, and Amir five years.
The trio are in the process of challenging the decision at the Court of Arbitration for Sport.
The scandal has further damaged the reputation of Pakistani cricket, which has been embroiled in match-fixing scandals in the past.
And with three other players - Kamran Akmal, Umar Akmal and Wahab Riaz - named in court as allegedly being involved in a betting scam, former England captain Michael Vaughan has suggested a complete overhaul of Pakistan's playing squad is required.
"I guess the only way to clear it would be to completely start afresh with a new set of players because there are still question marks over a few of the other players in their team," he told BBC Sport.
"They will always unearth talent, they have this raw natural talent for the game. I just hope we can watch them in the future and know they are clean."
Former Pakistan opener Aamer Sohail, who played 47 Test matches, agrees that wholesale changes are needed in the Pakistan squad.
"We have seen similar episodes in the past," he said. "It all happened, but the net result is that it is happening again.
"Until you learn and introduce reforms and proper strategy, I am afraid it will continue to happen in the future.
"It is a very sad thing for Pakistan cricket. These three were very talented. People were expecting they would do well for the country. The loss of talent like this is really sad."
Meanwhile, Pakistan captain Misbah-ul Haq says he and his team remain fully focused on their current series against Sri Lanka in the United Arab Emirates.
Since replacing Butt after the England tour last year, Misbah has led the Test side admirably well, ensuring Pakistan went undefeated in series against South Africa, New Zealand and the West Indies.
"We have a good bunch of boys and everyone is focusing on their own performance and the team's performance," said Misbah, who lead the three-Test series against Sri Lanka 1-0 after two matches.
"There's a good spirit. We know each other well and that's the key. The country's name comes first, people come and go, every player needs to remember that."
The 37-year-old Misbah was sidelined for three years between 2003-2007 after making his debut in 2002 and was again out of favour for last year's England tour.