Sir Ian Botham criticises ICC for lack of action on match-fixing
Last updated on .From the section Cricket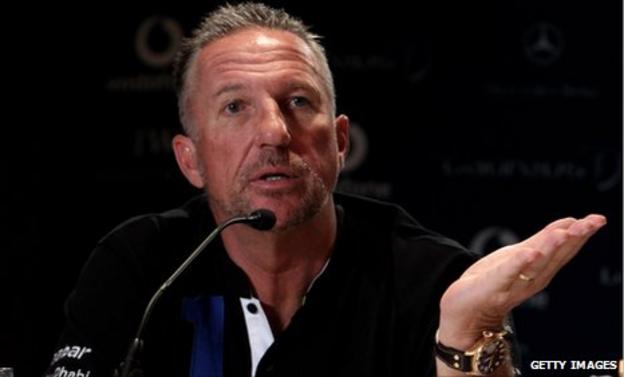 Sir Ian Botham says the International Cricket Council (ICC) needs to take action to tackle match-fixing in cricket, starting in Pakistan.
Former England captain Botham said: "I think the ICC have just sat on their hands and pretended it's not there. Well now they have got to act.
"It has got to start with Pakistan, who have to sort out their own back yard.
"Then other sides will follow. You have got to cut the head off the snake if you want to kill it."
At Southwark Crown Court on Tuesday, Pakistan trio Salman Butt, Mohammad Asif and Mohammad Amir were found guilty of conspiracy to cheat and conspiracy to accept corrupt payments.
It was found they had plotted to bowl deliberate no-balls at specific points during a Test match against England at Lord's in August 2010.
Botham, who played 102 Tests for England between 1977 and 1992, added: "It is 11 years since Hansie Cronje and it has come to the surface again now.
"Nothing has happened since. We have only just scratched the surface."
Former South Africa captain Hansie Cronje was banned for life for his part in a match-fixing scandal in 2000. He died in a plane crash in 2002.
Pakistan team manager Naushad Ali said there was now a proper system in place to deal with potential future corruption.
Ali said: "On the directives of the ICC, we have a training schedule for youngsters who are coming in, first-class cricket and international cricket. We educate them on how to deal with corruption and fixing.
"On this tour [in the UAE against Sri Lanka], we have a security manager who looks after these affairs - not only security, he looks into the anti-corruption as well."
The convicted Pakistan trio have already been suspended from cricket for at least five years by the ICC and Botham echoed the widespread calls for them to receive life bans.
He said: "I think [the ICC] issued five-year bans but it is more serious than that.
"These guys knew what they were doing. Now is the time to act and if it means lifetime bans then so be it.
"In other sports you get lifetime bans and I think, in match fixing, you are cheating yourself, the team your playing for, the teams you are playing against and, more importantly, the public.
"It is a pretty big sin."
Cricket Australia chief executive officer James Sutherland said: "Like all other member countries, we have an obligation to implement anti-corruption measures and we are even more committed to this after hearing [the] news out of the London courts.
"Our consistent position has been that any credible evidence of corruption be investigated with vigour."
Earlier, Australia captain Michael Clarke said: "There is no place in any sport for match-fixing of any kind and the verdicts handed down in the UK should act as a strong deterrent for any player or administrator who tries to denigrate our great game.
"While the proceedings are a step in the right direction, it is hugely important that the authorities continue to put processes in place to rid the game of match-fixing forever."
Sri Lanka team manager Anura Tennekoon added: "I think any form of corruption in the game should be dealt with seriously and eradicated so that the interest in the game is sustained."