ICC anti-corruption chief insists illegal betting not endemic
Last updated on .From the section Cricket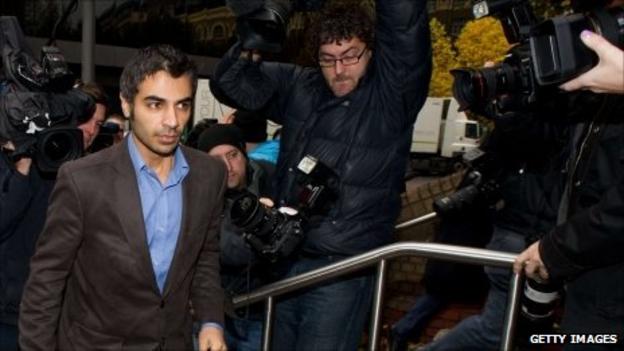 Cricket's anti-corruption chief insists illegal betting is not endemic in the game, in the wake of three Pakistan players being jailed for spot-fixing.
Salman Butt, Mohammad Asif and Mohammad Amir have been given prison terms for conspiring to bowl deliberate no-balls in a 2010 Test match against England.
Sir Ronnie Flanagan said: "It [corruption] is certainly not rampant in the world of cricket.
"I think it is engaged in by a tiny number of people."
Flanagan, who is the head of the International Cricket Council's (ICC) Anti-Corruption and Security Unit, added: "The vast, vast majority of cricketers are wonderfully ethical people.
"It is only a tiny proportion of people, some of whom may have a pre-deposition to it and some who succumb to the evil advances of other people.
"My message to the followers of cricket is keep following, keep loving this wonderful game and don't be thinking that corruption is rampant within the game."
However, he also noted: "Sadly I wouldn't say the instances we have seen brought to justice are totally isolated.
"They indicate we must never be complacent and ever vigilant."
Butt, Asif and Amir were found guilty of conspiracy to cheat and conspiracy to accept corrupt payments and were banned for five years in February by the ICC.
Former England captain Michael Vaughan has paid tribute to the work done by the ICC, but maintains the sport's governing body could do more, starting with lifetime bans for the trio.
Vaughan told BBC Radio 5 live: "I hope it sends a shockwave through the game and I'm delighted with the way it's been handled.
"I still believe there are more out there and more can be done to try and catch more than just the three we've seen in court over the last few weeks.
"You have to set a precedent. This is a shockwave because three guys are going behind bars but the [ICC] a few months ago could have banned these players for life.
"Mohammad Amir will be back playing in three-to-four years, back playing by the age of 23 or 24, and his signature will be sought after because he'll still be up there with the best bowlers in the world.
"The ICC do a decent job but they could do a lot more."
Test Match Special commentator Simon Hughes, the former Middlesex and Durham seam bowler, also criticised the ICC and believes the prison sentences could have been stronger.
Ex-Pakistan captain Butt has been jailed for 30 months with Asif, 28, receiving a one-year sentence and Amir, 19, six months.
Hughes said: "The sentences could have been harsher.
"What saddens me is that the ICC didn't take a stronger line when they had a chance.
"When they found these players guilty with their own investigation earlier in the year, they were only banned for five years.
"I don't understand that kind of logic. If you get caught doing anything like this you should be banned for life and the ICC should get a wake-up call themselves and be more pro-active in rooting out the problem because it won't go away without pro-active measures.
"Players are susceptible when they are young to being lured into this kind of thing, so [the ICC] have to get the message through when young."