Pakistan's media reaction to spot-fixing trial
Last updated on .From the section Cricket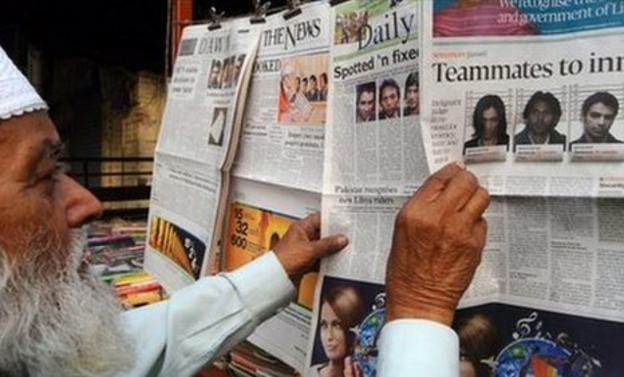 The Pakistan media have welcomed the decision to impose prison sentences on the three cricketers at the centre of the spot-fixing trial.
The following is a selection of comments from Pakistan newspapers in the wake of sentences handed down to former Pakistan captain Salman Butt and bowlers Mohammad Asif and Mohammad Amir for their part in the conspiracy to bowl deliberate no-balls in a 2010 Test match against England at Lord's.
THE NEWS (Islamabad-based centrist pro-free market English-language daily, 4 November)
"The punishments come as another black mark not just for Pakistan cricket but for the game at the world level. For Pakistan cricket, the sentences should come as a big eye-opener. There were loud voices of dissent in Pakistan after the ICC banned our spot-fixing trio. Later, many flayed the London court for finding the players guilty. Thursday's sentences might also prompt more hue and cry. The trio's supporters will be barking up the wrong tree. The truth is that the three players were blinded by greed and are now being made to pay for their crime."
THE EXPRESS TRIBUNE (Karachi-based moderate English-language daily, 4 November)
"That three former Pakistan cricketers, all stars in their own right, will be spending time in jail in a British prison will rankle many a Pakistani, regardless of whether he follows cricket or not. But one needs to look at this dispassionately and from the point of view of whether justice has been done, and what this unpleasant and unsavoury episode means for cricket. The Pakistan Cricket Board should now wake up and ensure that all its players know what is expected of them as far as match-fixing and spot-fixing are concerned."
DAILY EXPRESS (Islamabad edition of Karachi-based widely sold moderate Urdu daily)
"The South Work [Southwark] Crown Court of London has sentenced three Pakistani cricketers for spot-fixing. The allegations of match-fixing had been levelled against many cricketers of the world but their countries and boards are so strong that no one can be tried in the English courts. The International Cricket Council too cannot apply a ban on them."
JINNAH (Islamabad-based Urdu daily critical of US)
"The cricket board should keep a vigil on the activities of cricketers and devise a strict policy for future so that the players cannot dare to defame the country."
AUSAF (Islamabad-based pro-jihadist Urdu daily)
"The decision is good. After the punishment to the players, it is possible that no other Pakistani player will dare to commit such a crime."
BBC Monitoring selects and translates news from radio, television, press, news agencies and the internet from 150 countries in more than 70 languages. It is based in Caversham, UK, and has several bureaux abroad.