ICC anti-corruption unit is 'toothless tiger' - Andrew Strauss
Last updated on .From the section Cricket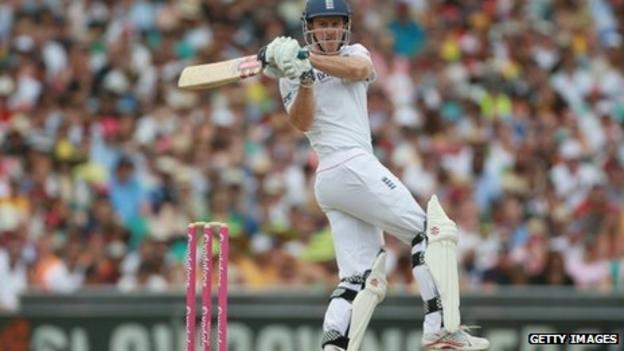 Andrew Strauss has dubbed the anti-corruption unit of the International Cricket Council as a "toothless tiger".
"The unit hasn't got the resources," said the England Test captain at a charity dinner after three Pakistan players were jailed for spot-fixing.
"They can't do sting operations like the News of the World, they can't infiltrate these betting networks.
"I'm hopeful only a minor percentage of cricketers are involved in it but the truth is we really don't know."
Salman Butt, Mohammad Asif and Mohammad Amir have been given prison terms for conspiring to bowl deliberate no-balls in a 2010 Test match against England.
Ex-Pakistan captain Butt, 27, was jailed for 30 months, while Asif, 28, received a one-year sentence and Amir, 19, six months.
After the verdicts, the head of the ICC's Anti-Corruption and Security Unit (ACSU), Sir Ronnie Flanagan, said corruption in cricket was only "engaged in by a tiny number of people".
While insisting the ACSU were "doing the best job as they possibly can", Strauss questioned why it had been a newspaper that had revealed the corruption of the three Pakistan cricketers, rather than the ICC.
Speaking at an awards dinner for the cricket charity Chance to Shine on Thursday, Strauss said: "There's still a lot of questions to be answered because they weren't exposed by any of the cricketing members, they were exposed by the News of the World. I think we've got to get better at policing these sorts of things.
"I think we all know there's no place for it in the game. We've got to be vigilant.
"I still think the ICC could be doing a lot more than they are doing."
Butt, Asif and Amir were found guilty of conspiracy to cheat and conspiracy to accept corrupt payments. They were banned from cricket for five years by the ICC in February.
Amir, 19, has apologised for the "biggest mistake" of his life but then told Pakistan's Geo News Channel: "I was not given enough information about the anti-corruption code by the PCB [Pakistan Cricket Board]."
The PCB has hit back though, stating: "In March 2010 Amir signed the code of conduct for players when he was issued his central contract.
"The code of conduct clearly states that by signing the same the player commits to abiding by all ICC rules regarding betting, match fixing, corruption, and any matter that could call into question the integrity of the game.
"Amir acknowledged that he understood the code and his responsibilities under the same. Amir also committed that he would abide by these rules and any others formulated in this regard."
In January, England play Pakistan in Dubai and Abu Dhabi - but Strauss insisted what happened between the two sides after the fourth Test between Pakistan and England in August 2010 would be "water under the bridge".
He added: "One of the strong traits we try to foster within the England team is you worry about yourself and your own performance.
"That's what we'll be doing in Dubai and it'll be another keenly contested series as it always is against Pakistan."