England had Wags plan for Ashes
Last updated on .From the section Cricket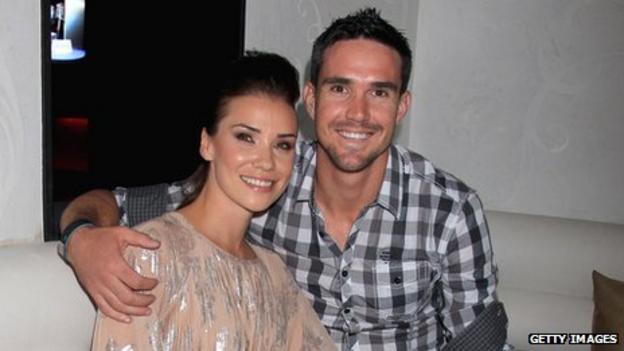 England cricket bosses booked a Father Christmas as part of a detailed strategy to manage the players' wives and girlfriends during the successful Ashes tour in Australia last winter.
The team's managing director Hugh Morris revealed that the meticulous preparation for the tour included a dinner for the 'Wags' with England's coach and captain where it was explained how they would be taken care of and how they could help the team win.
And they even went to the lengths of ensuring Santa Claus was on hand to keep the players' children happy over the festive period.
It obviously worked, with no family-related incidents blinkering England's 3-1 series victory, their first Ashes triumph down under in 24 years.
The plans included the families flying separately to the team to avoid Australian television carrying pictures of players "carrying crying babies", and a pep-talk for the Wags to help inspire their partners to beat the Aussies.
The issue of handling the Wags has been a problem for the England football team at past World Cups but Morris believes cricket got it just right with the families spending Christmas with the players.
"We planned the trip to Australia meticulously for about 12 months beforehand and one group of stakeholders we wanted to speak to were the wives and girlfriends," he told UK Sport's world-class performance conference at London's ExCel centre.
"We have a great set of wives and girlfriends and at the end of the summer of 2010, Andy Flower, Andrew Strauss and myself invited all the girls to a dinner.
"What we wanted to do was manage their expectations. Our guys are away for massive periods of time, 260 days a year in a hotel room.
"It is really important the girlfriends, the wives and the families go and see them but at the appropriate time, that's absolutely critical.
"We are going to Australia to win cricket matches and we wanted to get that firmly imprinted on everyone's brain.
"So we spoke to the girls, told them how we were going to look after them and the kids at Christmas time, that Father Christmas would be there, and that everything would be there.
"We asked the girls to help their husbands and their boyfriends beat Australia. It was a really good and a really positive meeting."
Morris said the travel was arranged separately to promote a strong image of the players as athletes.
He added: "We said to the girls 'this time around, unlike four years ago, you are not going to be flying on the same internal flights as the players'.
"The reason for that is when you see a player carrying a screaming baby or pushing a pram this is not the image we wanted to portray."
Asked if England football boss Fabio Capello could learn from cricket's example, Morris replied: "I don't know the environment there well enough but that's how we operate and we believe it works.
"Six weeks is still a significant time. It's all about managing people to make sure that your task is to go out there to win a tournament and that that is not compromised in any way. It's all about getting that balance right."