Yorkshire needed shake-up - Michael Vaughan
Last updated on .From the section Cricket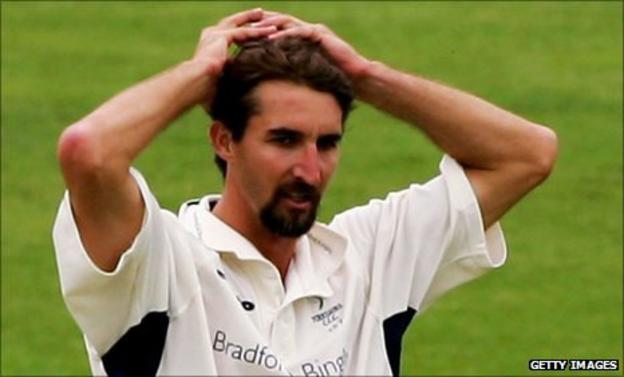 Former Yorkshire batsman Michael Vaughan has said he thinks the shake-up in the county's coaching staff "needed to happen".
Ex-England captain Vaughan told BBC Sport: "I think it needed to happen.
"'Dizzy' Gillespie coming back will bring that experience and a bit of a 'wow' factor."
Former Australia pace bowler Gillespie, 36, played for Yorkshire in 2006 and 2007 and has since had spells coaching Zimbabwean side Mid West Rhinos, Australia A and Indian Premier League outfit Kings XI Punjab.
He will be joined at Headingley by former Kent and Sri Lanka assistant coach Paul Farbrace, who will take charge of the second XI, and will work under director of cricket Martyn Moxon.
Among the departures from the previous coaching staff were former England all-rounder Craig White, who is taking up a career in umpiring, Steve Oldham, Kevin Sharp and John Blain.
"I think the appointments are good ones," said Vaughan. "He's gone away and worked with Australia A and in Zimbabwe and done well. He comes with a huge pedigree of success as a player, he's massively respected around the game.
"And I think Paul Farbrace is an exceptional appointment as well. I think the expertise he has got from working with Kent and Sri Lanka, working with Kumar Sangakkara and Mahela Jayawardene, it will be great for him to be at Yorkshire working with our young players.
"I think it's a good move by the club, and particularly for Martyn Moxon who has clearly had a tough year because results haven't been as good as they should have been.
"He can just move aside a little bit and Gillespie will take over more of the first team."
Chairman Colin Graves has made it clear that he expects Yorkshire to win promotion back to the top flight at the first time of asking next summer.
Vaughan believes it is vital that the players do not allow that expectation to weigh on their shoulders.
"I completely understand Colin. He's passionate, he was upset at the end of last season and he's desperate to get back in Division One," he added.
"He knows realistically that is a very good goal that he has set the team but he also knows that the only way they can get promoted is by doing the day-to-day stuff, consistently improving, consistently getting the best out of themselves and consistently staying together as a team. I'm sure they will do that next year."