Martin van Jaarsveld cancels Leicestershire deal and retires
Last updated on .From the section Cricket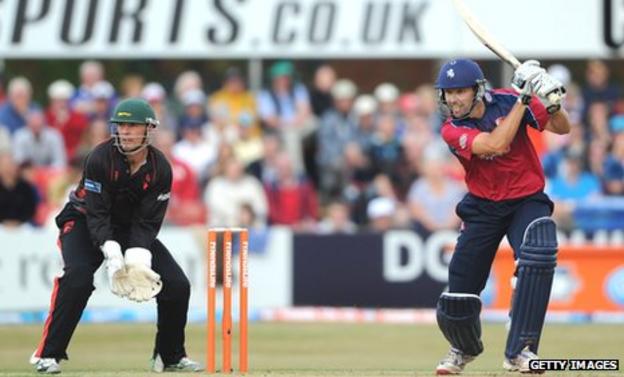 South African batsman Martin van Jaarsveld has pulled out of a deal to sign for Leicestershire and has retired from county cricket.
Van Jaarsveld said: "I'm desperately sad not to be able to take up the challenge with Leicestershire.
"I've always set the highest of standards but at the age of 37 I'm beginning to show signs of fatigue, which has affected my performance."
Van Jaarsveld played 110 first-class matches for Kent after joining them in 2005.
He scored 8,028 runs at an average of 46.67 while in one-day and Twenty20 cricket he scored 5,431 runs.
"I've struggled to make significant contributions in four-day cricket with the bat of late and have even put down slip catches that I would previously have eaten for breakfast," van Jaarsveld continued.
"There's no doubt that the years of flying backwards and forwards between South Africa and England have taken their toll. So for my own benefit and peace of mind and for the sake of my young family, my wife and I have decided to settle permanently in South Africa.
"I apologise to Leicestershire and to the fans but I'd rather be honest than turn up and not be able to perform at my best."
Leicestershire chief executive Mike Siddall added: "We are all disappointed that Martin will not be joining us but we respect what must have been a very difficult decision and wish him well for the future."
Head coach Phil Whitticase said: "We have a number of irons in the fire and hope to be able to announce a replacement in the near future."