Dr Ali Bacher leads tributes to Basil D'Oliveira
Last updated on .From the section Cricket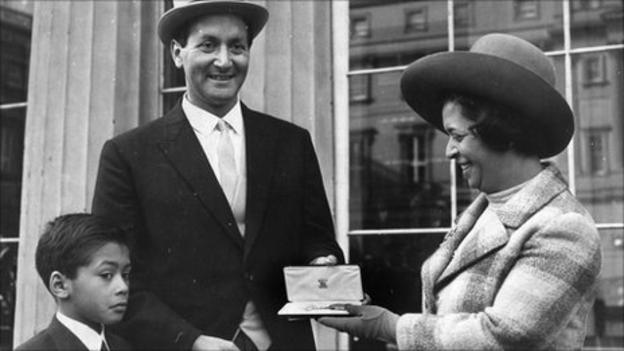 Former South Africa cricket chief Dr Ali Bacher has led the tributes to Basil D'Oliveira who has died aged 83.
D'Oliveira, who was born in South Africa, played 44 Tests for England after a lack of opportunities for non-white players in his home country.
However, the apartheid regime prevented him from playing for England in South Africa in 1968 because of his colour.
"He will always remain a giant in the transformation of South African sport," Bacher, 69, told the BBC.
"He showed conclusively that blacks in South Africa, given the same opportunity as whites, had that ability, talent and potential to become international stars.
"It is sad that he could never play for his country of birth. There is no question that in the 21st century he would have played for South Africa, which I'm sure would have been his first choice."
Damian D'Oliveira, who followed his father in playing cricket for Worcestershire and is now the county's academy director, said: "It is a sad time for us as a family but, after a long battle against Parkinson's disease, dad passed away peacefully.
"Although it is difficult, we will celebrate a great life rather than mourn a death."
Cricket South Africa chief executive Gerald Majola
"He was a man of true dignity and a wonderful role model as somebody who overcame the most extreme prejudices and circumstances to take his rightful place on the world stage.
"The fact that he could have a Test career batting average of 40 in 44 Tests and an economy rate of less than two with the ball on his way to 47 wickets was remarkable considering he was past his prime when he made his debut for England in his mid-30s.
"One can only imagine what he might have achieved had he made his debut as he should have done at the age of 20 on South Africa's tour of England in 1951.
"I would like to pay tribute also to all those people in England, notably John Arlott, one of the greatest cricket radio commentators of all time, for the roles they played in making it possible for Basil to achieve his dream of playing international cricket for his adopted country."
Former Worcestershire and England team-mate Tom Graveney
"It's terrible news because Basil was one of my best friends," he told Sky Sports.
On the abandoned 1968 tour to South Africa, he added: "I can remember saying, 'If he doesn't go, I'm not going' because we were such great friends and he'd done everything to go and get back into the team, so it was politics I'm afraid, it was very sad.
"He was a very good all-rounder. He bowled medium pace, with a few off-spinners in amongst them. But his batting was the thing. He was tremendously strong. I can remember batting with him when the pitches were turning a bit, because we played on wet wickets in those days, and he was just terrific."
England and Wales Cricket Board chairman Giles Clarke
"Basil D'Oliveira was more than just a cricketer. He personified the bravery and determination of the South African people's struggle against apartheid, and his own remarkable achievements, starting a Test career at 34, an age when most players are considering retirement, showed the world just what he and his people could accomplish.
"He transcended our sport, radiated kindness, courtesy and courage, and will always be fondly remembered in English cricketing circles as 'Dolly.'
"Basil had many friends and admirers right across the cricketing world and his personal battle to overcome discrimination in sport remains an inspiration to all. He will be greatly missed."
Worcestershire skipper Daryl Mitchell
"From a county point of view, he was a massive part of the club's history and his family name lives on through Damian and grandson Brett [who signed a one-year contract with the county in August].
"But he wasn't just a cricketer and, with the apartheid battle, he had a huge impact on thousands and thousands of people.
"I've watched the films and read what he had to go through in his early days and it brought tears to my eyes."
BBC cricket correspondent Jonathan Agnew
"You can split Basil D'Oliveira into two parts - the cricketer and the political part he played in the game, although that was out of his hands.
"I remember him as a stylish batsman and I remember fondly shouting at the television screen for [England captain] Ray Illingworth to "bring Dolly on".
"He would only bowl medium pacers with a gentle bit of swing but he was a great partnership breaker.
"Basil was a fine cricketer in his own right but he will be best remembered as the man who unwittingly began apartheid's demise in 1968.
"In some respects he was fortunate. In South Africa there were thousands of Basil d'Oliveira's who never got the chance to get out - it's one of the deep running scars in their sporting history.
BBC Radio 5 live's Pat Murphy, who co-wrote D'Oliveira's autobiography 'Time to Declare'
"We reflect on one of the most significant cricketers of the 20th century because of the political sporting connection.
"In his own way, with his demeanour, integrity and dignity, the British sporting public took him to their hearts.
"He became a flagship for all those who despised the whole concept of apartheid.
"Basil D'Oliveira's influence helped to usher in a world where apartheid was consigned to the dustbin."
Former Labour minister and anti-apartheid campaigner Peter Hain
"[D'Oliveira was] somebody who just carried himself in a very dignified way, despite all the pressures whirling around him.
"Somebody who became much loved in the English cricket world as a result and yet somebody who, in his own quiet, modest and unassuming way, became the symbol of what was wrong with apartheid South Africa."
International Cricket Council chief executive Haroon Lorgat
"When I was growing up in South Africa, Basil was a revered personality in 'non-white' cricketing circles. At the time his influence and his legacy in a divided South Africa stretched way beyond the cricket field.
"Basil was a man of great humility whose dignity impressed everyone when he found himself at the centre of one of cricket's most infamous episodes. His improper exclusion from the England tour of South Africa in 1968 was to have a profound and lasting effect on those involved in the struggle against a discriminatory regime.
"While he never regarded himself as such, he was a hero to a generation of disenfranchised South Africans. Today I can recall with even greater respect how he served as a role model showing that despite the odds, underprivileged South Africans like myself can rise to the top. We will all mourn his passing.
"It is fitting that his memory will live on through the Basil D'Oliveira Trophy which is played for between South Africa and England - and the series next year will have even more meaning."