Jonathan Agnew's tribute to Basil D'Oliveira

By Jonathan Agnew
BBC cricket correspondent
Last updated on .From the section Cricket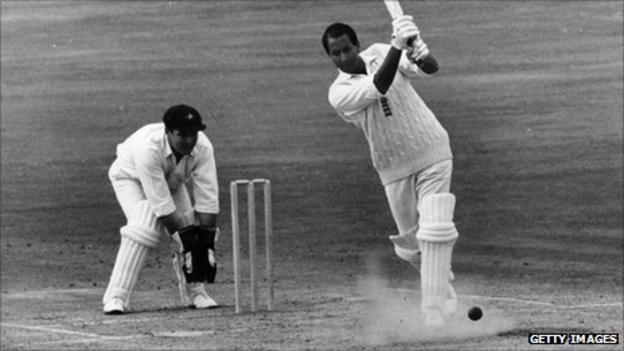 You can split Basil D'Oliveira into two parts - the cricketer and the political part he played in the game, although that was out of his hands.
I remember him as a stylish batsman and I remember fondly shouting at the television screen for [England captain] Ray Illingworth to "bring Dolly on".
He would only bowl medium pacers with a gentle bit of swing but he was a great partnership breaker.
Basil was a fine cricketer in his own right but he will be best remembered as the man who unwittingly began apartheid's demise in 1968.
No other sport played a bigger part in bringing down apartheid than cricket and it all came about because of the ugly scenario in 1968.
D'Oliveira's is the example I use when people tell me sport and politics should never mix. Sport can have huge political influence in the right situation.
In the late 1960s the whole issue of South Africa was being debated globally and it was going to take something to bring things to a head. That came in the summer of 1968.
D'Oliveira was someone who could not play in South Africa, where Test cricket was white and they only played white teams, therefore his selection for that winter's tour was a focal point.
He had been in poor form, playing in that summer's first Test against Australia but being dropped for the next three.
He returned for the final Test where he scored 158 at the Oval, which seemed to secure his place.
But the Test and County Cricket Board [as the England and Wales Cricket Board used to be known] knew what was likely to happen if they picked him.
So they left Basil out. They bottled it really, saying that Basil had been left out because his bowling would not be effective - but that's rubbish because he was mainly a batsman.
The news provoked outrage. It was clear it was a racial decision, rather than one taken on form, because he had scored the big hundred he needed, and it caused one hell of a stink in the English media.
However, when front-line bowler Tom Cartwright had to withdraw from the squad injured, the TCCB slipped Basil in. It seemed as though the board was appeasing the outcry over D'Oliveira's original exclusion by putting him in to replace someone you wouldn't normally regard him as a straight swap for.
The South Africans thought it was done purely to snub them - they thought D'Oliveira for Cartwright was deliberate and they used that as a reason for saying 'if D'Oliveira comes that's the end of it'.
There was a lot of political and media pressure - although the media was split, with a strong contingent thinking England should go to South Africa without Basil to keep lines of communication open.
In some respects, Basil D'Oliveira was fortunate. In South Africa there were thousands of Basil D'Oliveiras who never got the chance to get out - it's one of the deep scars in their sporting history.
There were several generations of cricketers who were treated appallingly because of the colour of their skin.
In a period when racism in sport suddenly seems to have popped its head up again, this is a salient reminder of how bad things were - and not very long ago.
Aggers was talking to BBC Sport's Peter Scrivener.