International Cricket Council chief Haroon Lorgat to quit in 2012
Last updated on .From the section Cricket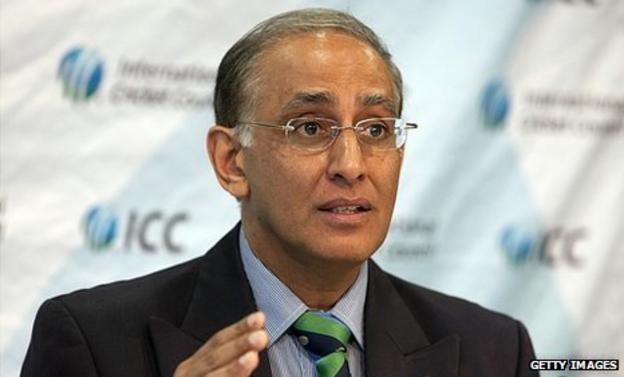 Haroon Lorgat will step down as chief executive of the International Cricket Council in June 2012.
He chose not to take up the offer of a contract extension until 2014.
Lorgat said he was "disappointed" over the postponement of the 2013 Test World Championship but insisted he would be leaving the sport in good health.
"I am confident that with the strategic restructures we have undertaken all three formats can be sustained at international level," he said.
Lorgat, a former South Africa chairman of selectors, succeeded Malcolm Speed as ICC chief in 2008 and agreed a 12-month extension to his three-year deal last year.
He will bow out after the 2012 ICC Annual Conference in Kuala Lumpur.
Lorgat oversaw the 2011 World Cup in the subcontinent and the response to the spot-fixing scandal, which saw Pakistan trio Mohammad Amir, Mohammad Asif and Salman Butt banned for between five and 10 years.
"My sense is to step aside after having delivered a successful ICC Cricket World Cup and the new global ICC strategy which is now in place," said Lorgat.
"In 2010, I felt there was much work for me to complete during 2011 which included protecting the integrity of the game and restoring the reputation and image of the ICC.
"Having dealt decisively with the spot-fixing issues, delivered a highly successful ICC Cricket World Cup and adopted a new global strategy, I feel the time is right to move on."
Lorgat's announcement comes the week after the ICC announced that the first Test Championship, was being called off in favour of the 50-over Champions Trophy after pressure from its broadcast partner ESPN STAR Sports.
The Marylebone Cricket Club (MCC) described the announcement as "a setback for Test cricket", a viewpoint backed up by England coach Andy Flower and fast bowler James Anderson.
The ICC nominations committee have tasked an executive recruitment agency to advertise and identify a successor. The recruitment process will be managed by ICC vice president, Alan Isaac, and will begin soon.