Kent-bound Michael Powell 'held back' by Glamorgan
Last updated on .From the section Cricket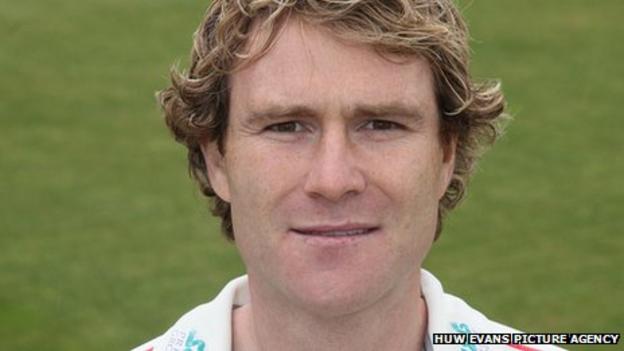 Former Glamorgan batsman Michael Powell claims he was "held back" by the Welsh county and has hit out at its strategies.
"You have got your hands tied and I found that so frustrating for my career that I was not allowed to air my views when I was there," said Powell.
The BBC has asked Glamorgan for a response to Powell's criticisms.
In an interview with BBC Radio Wales, Powell said: "I just felt I could have given a lot more to Glamorgan but was held back by a number of people.
"When you are actually playing in the club in the middle of it you are not allowed to talk about it.
"The club has changed a lot from when I first started at Glamorgan. I've seen a lot of changes at the club. Some for the good. Some not for the good.
In 2010 Glamorgan hit the headlines when director of cricket Matthew Maynard, former captain Jamie Dalrymple and president Peter Walker all resigned after the club brought in Alviro Petersen as skipper and then Colin Metson as managing director of cricket.
And since then, Glamorgan lost in the region of £1m on the 2011 England v Sri Lanka Test match and subsequently lost the 2012 Test between England the West Indies.
But Glamorgan will host an Ashes clash in 2015, as well as a Test against New Zealand in 2013.
"We [Glamorgan] boxed ourselves in a corner financially," Powell added. We had to create a Test venue to recreate the Glamorgan brand and make it one of the biggest clubs in the country. It obviously hasn't worked.
He added: "We weren't able to find the players we wanted.
"We weren't able to go on pre-season tours and help the players as much as we possibly could."
Meanwhile, Powell, who scored 25 first-class centuries for Glamorgan and passed 1,000 runs in a season five times, is now looking forward to extending his county career with Kent.
But he said he would miss Glamorgan's supporters.
"They are the people I hold dear to me. What makes Glamorgan is the supporters and I believe they are the best supporters in the country.
"I got a little bit stale. It [the move to Kent] is probably what I needed. I've not enjoyed my cricket for a couple of years now really and I just think it might freshen me up.
"I don't think I have got anything to prove... I just want to get down to Kent, score a lot of runs for them, get promoted to the First Division, do well in one-day competitions and move forward and enjoy my cricket for the next two years.
"I'd love to play for another three or four years. If I pile on the runs and I'm enjoying myself there is no reason why I can't extend my career down at Kent."