Yuvraj Singh treated for non-malignant lung tumour
Last updated on .From the section Cricket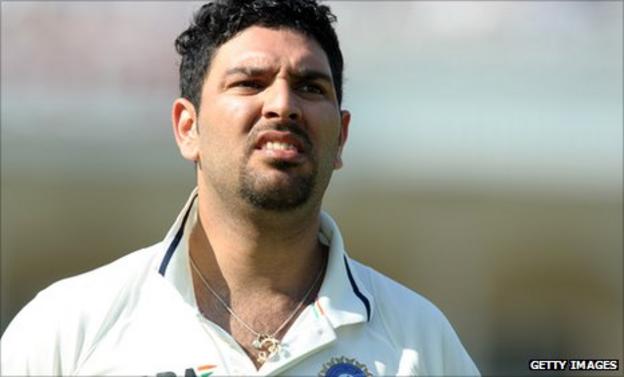 Indian batsman Yuvraj Singh played through the 2011 World Cup with a non-malignant tumour in his lung.
His mother Shabnah revealed the news and said he was "overwhelmed" by the support he received.
Yuvraj, 29, who was named man of the tournament after helping India to victory, has opted out of the upcoming one-day series against West Indies.
He wrote on Twitter: "I am absolutely fine, just need to get match fitness and training will be back soon."
Yuvraj played only one Test match in England in the summer and two of three Test matches against the West Indies in November.
He is hoping to return for the one-day series in Australia in February 2012.
In a statement, Shabnah said: "Reports and scans then showed us that Yuvraj was dealing with something really serious.
"A golf ball-size lump was found over his left lung and doctors advised us to go in for more detailed scans.
"When he returned from England... detailed scanning, and biopsy reports indicated that the tumour is non-malignant and non-threatening and can be treated through proper medication and therapy.
"In medical terms, Yuvraj is now in a much better state and on his way to a full recovery."
Yuvraj made his international debut in 2000 and has played 37 Tests, 274 one-day internationals and 23 Twenty20 internationals.