MCC committee votes to redevelop Lord's on 'stand-by-stand basis'
Last updated on .From the section Cricket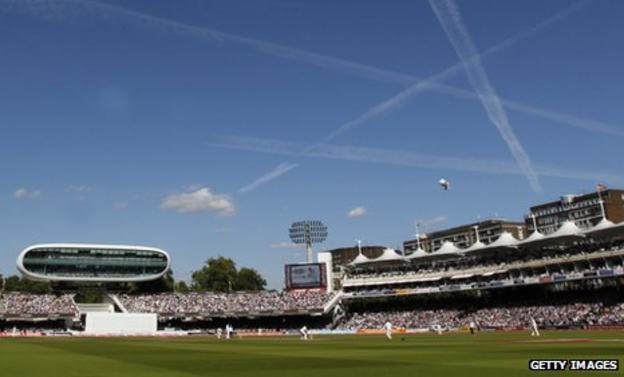 Marylebone Cricket Club has chosen to redevelop Lord's on a "stand-by-stand basis" after a vote on Wednesday.
Three proposals were submitted for a 'Vision for Lord's', by the MCC's Ground Working Party.
The MCC decided to carry out work in stages on freehold land only, probably starting with the Pavilion End followed by the Tavern and Allen Stands.
Chairman Oliver Stocken said the developments "will provide significantly improved amenities".
An artist's impression of one of the proposals showed four diamond-shaped towers of flats at the Nursery End. Architects insisted the towers would not throw shadows over the ground.
The artist's impression of that proposal was published in the Times newspaper on Wednesday.
Stocken said: "The club has committed £3m since 2008 on this complicated project.
"During this period, the economic climate has changed substantially.
"However, the club was awarded the Platinum Package of major matches by the ECB in September 2011, and that has provided the committee with the confidence to fund a redevelopment scheme on the club's freehold land, on its own.
"This is the course of action that the committee has today decided to pursue."
Any proposals agreed by the committee must meet planning approval from Westminster Council and be voted for by two-thirds of MCC's 18,000-strong membership.
As well as owning Lord's, MCC remains the guardian of the laws and the spirit of cricket.
In 2009, chief executive Keith Bradshaw ruled out selling the naming rights to the historic ground to fund redevelopment.