Derbyshire captain Luke Sutton retires from cricket
Last updated on .From the section Cricket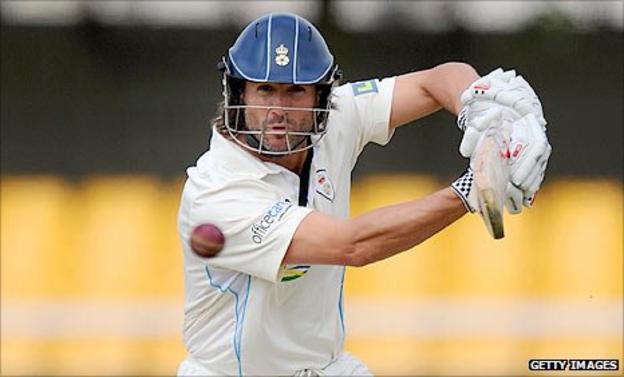 Derbyshire captain Luke Sutton has retired from cricket and revealed that his ongoing battle with depression played a big part in his decision.
The 35-year-old wicketkeeper-batsman only returned to the club last April.
But, despite improvements on the pitch, Derbyshire had a turbulent time off it with head of cricket John Morris and chairman Don Amott both leaving.
"I've been aware for some time that I have problems with aspects of my mental health," said Sutton.
"I have always pushed myself to the limit but I reached a point that it was having an adverse affect on my relationships with my family and colleagues, and my health in general."
Derbyshire finished fifth in Division Two of the County Championship in 2011 - a significant improvement, having ended the previous campaign rock bottom.
Although they also improved in the limited-overs competitions, they failed to progress from the group stages in either form of the game.
But the turmoil off the pitch, which saw Amott severing all ties with the club and Morris relieved of his duties after a mid-season player revolt, was the most memorable part of a difficult summer.
Keynsham-born, Millfield-educated Sutton, who began his career with his native Somerset before joining Derbyshire for the first time in 2000, moved on in 2006 to spend five seasons with Lancashire.
But, following his return to Derby, he sought treatment for depression and anxiety during this summer's campaign, and he is relieved that his condition is now out in the open.
Sutton said: "Although as a professional sportsman it is extremely embarrassing to admit to a weakness, I'm proud to have found the strength of character to seek treatment, enabling me now to feel extremely positive about my future.
"I've had a brilliant time over my 14 years in the game, and a number of other important reasons have led me to decide to retire.
"In addition to concerns about my own health, my two-year-old daughter has recently been diagnosed with diabetes and the growing success and, therefore, pressure of my business has forced me to take a long look at my future.
"I've recently undergone hand surgery which has also played its part in this decision.
"Upon reflection, and although a difficult decision, it is the right time to move on."
Sutton appeared in 176 first-class matches, 167 List A limited-overs games and 30 Twenty20 matches, captaining Derbyshire in four of his six years with the club.
"I have made some incredible friends in the game," he said. "I thank each and every one of them for making it a genuinely amazing experience.
"In particular, I'd like to thank the squad and members at Derbyshire for their great support and encouragement during my time at the club.
"I have thought long and hard about this decision, and I know it is for the best of the club.
"I genuinely don't feel I would be able to fulfill my position to the level that I know is required. I have great affection for Derbyshire and wish the club every success.
"I'd like to thank everyone I've shared a field with over the past decade or so. I now look forward to the next chapter of my working life with Activate Sport and also spending more time with my wife Jude and twins Albie and Amelie.
Chairman Chris Grant said: "Luke's retirement was unexpected but we respect his decision and thank him for his efforts during his two spells with Derbyshire.
"With the changes that were made during the 2011 season, we appreciate it was a testing year for Luke and, on a personal level, I would like to thank him for his loyal support.
"I speak for everybody connected with the club in saying that I wish Luke all the very best in his continued recovery and in his future endeavours.
"We will be announcing Luke's successor as captain in the next few days."