Dimitri Mascarenhas uncertain over IPL future
Last updated on .From the section Cricket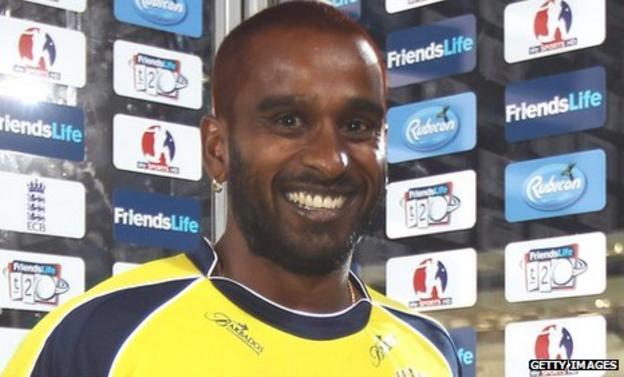 Hampshire cricket manager Giles White says it is "still to be decided" whether Dimitri Mascarenhas will play in the Indian Premier League next year.
The 34-year-old all-rounder has featured in the IPL for three of the last four years.
White told BBC Radio Solent: "It's to be decided whether he is going to play in the IPL, Dimi's weighing up that side of things.
"It's his call, we've got the depth to cover if he does go."
He added: "It's something we'll talk through and see where he sits with it in the new year.
"We've accounted for him being in the IPL but obviously it would be nice to have him around here."
The fifth IPL season is due to run from 4 April to 27 May, with Mascarenhas set to be part of the Kings XI Punjab squad.
And having agreed a new contract with Hampshire on Thursday, he would miss the start of the County Championship season if he were to go to India.
However, the England limited overs international admits he is unsure of whether he will be called to play there, despite contractual obligations.
"I've already signed for the IPL so I'll be going there for 2012, as far as I know at the moment. Things can change though," he explained.
"There is a chance I may not go at all. I don't want to go out there if I'm not really going to play. We probably won't know until March if I'm required."