Stephen Moore column

By Stephen Moore
Lancashire and England Lions batsman
Last updated on .From the section Cricket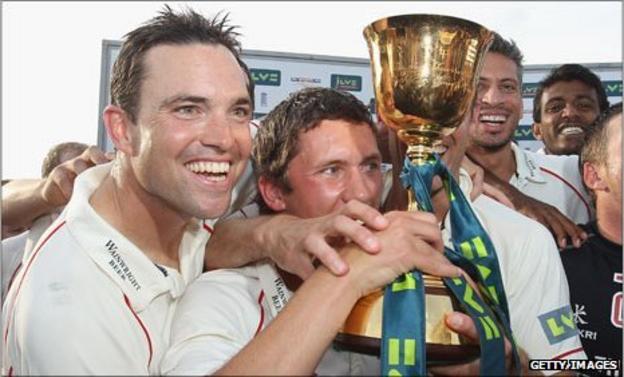 What a difference a year makes. It has been an incredible year for me personally on and off the field, but it has been ground-breaking for us as a squad.
There was no way of knowing 12 months ago where we would all be today, but we all bought into the team's vision of how we wanted to prepare, practise and play our cricket. Above all, as a small squad we were going to enjoy ourselves.
One thing I underestimated was how well our success would be embraced around the county. The county champions are invited to receive their medals at Buckingham Palace every year, and it was a wonderful privilege to be hosted by the Duke of Edinburgh and the Lord's Taverners in London.
In addition to that, local councils and clubs have filled our diaries with events to celebrate the 2011 summer, culminating in the red carpet treatment at the BBC Sports Personality of the Year awards just before Christmas.
All these fruits of our success must come to an end and, although we have had a glimpse of life in the limelight, in some respects it is refreshing to come home and know the important things in life never change. Even if changing nappies in the early hours brings one back to earth with a slightly harder thud than anticipated.
Pre-Christmas last year for me was an exercise in patience as I tried to fight my way back to fitness after surgery on my shoulder. As a team our time was spent mainly in the gym getting stronger and fitter, punctuated with individual skill sessions.
This year we thought it important to connect with what has made us successful so far. I believe that it is important to enjoy your success, because there is one thing I have learned, which is you will spend more time doing the basic hard work than you will ever spend revelling in your achievements.
That connection we made during our meeting was to remember that the vision this squad has drawn up is not one for short-term success, but for a long-term legacy. With this in mind our training this winter has taken on a new level of intensity.
Before the season started we were dubbed relegation candidates and a team of no stars. Next year we will be contenders with individuals looking for an international call-up. We will not be underestimated as a side and that brings new challenges.
We have trained for longer and harder this winter, with a heavy focus on increasing our skills. Every week as a team we practise and then set individual performance goals that are tested to give us maximum feedback as to how we are progressing.
We also incorporate a team element into our challenges to maintain competitiveness and help us remember that it was our team efforts this season that led to our success.
We still have a small squad, so energy is high as opportunities next year are bound to be abundant for individuals to make names for themselves. Christmas, however, will be a time for the squad to have a break from one another and work on our fitness programmes before returning in the middle of January.
There is snow on the ground up north, so the deserts of Abu Dhabi and Dubai seem a long way away, but I am sure it will feel like only a few late night nappy changes before we board that plane to get the 2012 season off and running.
You can follow Stephen Moore on Twitter at: http://twitter.com/stephen_moore6 (external site)