Andrew Strauss wants to lead England to four straight Ashes wins
Last updated on .From the section Cricket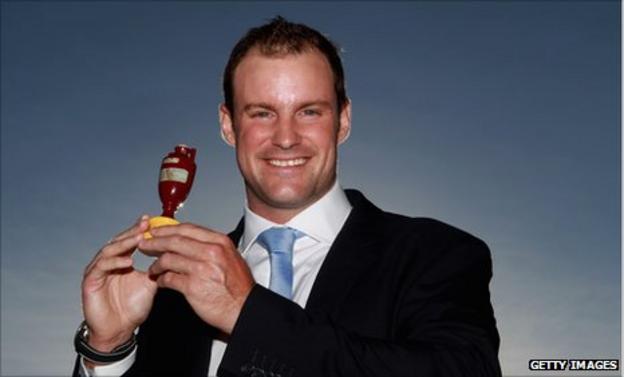 Andrew Strauss wants to become the first England post-war captain to win four successive Ashes series.
Strauss, 34, insists he will continue playing Test cricket as long as he remains "motivated" and "excited".
The batsman, who lifted the Ashes in 2009 and 2011, wants to lead England at home against Australia in 2013 and on the return trip in 2013-14.
"Playing in back-to-back Ashes tours would be a realistic goal," Strauss told BBC Radio 5 live.
"But I'm not going to say that is definitely what is going to happen. There's a lot of cricket to be played between now and then.
"We will see where we are in 12 months, then another 12 months and go from there."
Strauss became the first England captain to win back-to-back Ashes series against the Australians for 24 years with the 3-1 success at the start of this year.
A third successive victory would rank the Middlesex player alongside Mike Brearley, who led England to wins in 1977 and 1979 before taking over from Ian Botham midway through the famous 1981 triumph.
But Strauss and his players face a number of other challenges before they can turn their attentions to hosting Australia in 2013.
England, who climbed to the top of the world Test rankings this year, meet Pakistan in the United Arab Emirates next month and travel to Sri Lanka in March.
They return home for Tests against West Indies and South Africa in the summer.
And Strauss, who has won 89 Test caps, wants to lead his country for the foreseeable future.
He said: "I'm still motivated and excited about the challenges we have got ahead of us.
"As long as I'm motivated and playing well, and feel like there is still space in the side for me, then I want to continue.
"But who knows how long that is going to last?
"From my point of view, if I take it one series at a time then hopefully I will be playing well enough to keep playing for a while yet."