Pakistan v England: Dawid Malan's top tips for England
By Justin Goulding
BBC Sport
Last updated on .From the section Cricket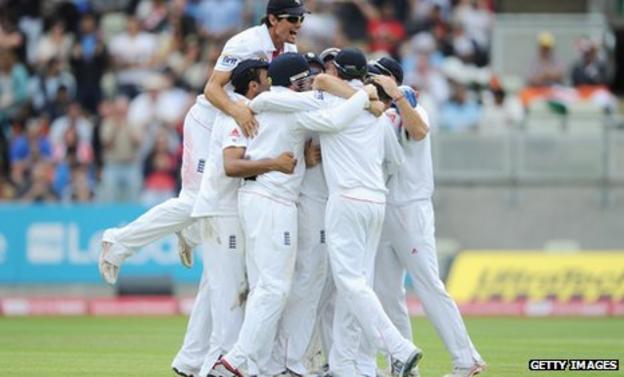 England will break new ground when their Test series against Pakistan gets under way.
Never before have they played a Test in the United Arab Emirates, Pakistan's temporary base amid ongoing security fears in their homeland.
Although England met Pakistan in two Twenty20 games there in 2010, Andrew Strauss and company admit adapting to unfamiliar conditions will be the toughest challenge they face - in temperatures expected to top 25 degrees Celsius.
Dawid Malan is rare among Englishmen in that he has played in the UAE in each of the last three seasons.
He averaged 60 during Middlesex's pre-season tour in 2009, scored 41 and took four wickets for MCC against Durham the following year, and made 71 in MCC's win over Nottinghamshire in 2011.
The 24-year-old passes on the benefit of his experience to England's tour party.
A BATSMAN'S PARADISE?
"When I played for MCC in Abu Dhabi, the wicket was very good for batting.
"There might be some early movement on the first day if they leave some grass on it but from day two onwards it was a road.
"It's not a wicket where you have to change your game - you can stand and hit through the line of the ball.
"There's probably not going to be as much bounce as England are used to, but there's enough pace; it's not ridiculously slow.
"You can still play your shots, the ball still hits the bat very nicely and the outfield is quick."
SEAM WORK
"England's seamers have got everything they need to do well out there.
"There will be something in it for them. They're tall blokes and, if they bend their backs, they've got enough firepower.
"We saw during the Ashes series that they can reverse-swing the ball as well.
"The attack is good enough to adjust to every wicket they play on."
THE ROLE OF SPIN
"There was a little bit of turn when I played in 2010 but not as much as you would have expected.
"Spin actually did dominate the following year, so someone like Graeme Swann will play a massive role out there.
"On one of the grounds they might play Monty Panesar as a second spinner, but it would be ideal if someone like Kevin Pietersen bowls a lot of overs as a part-time spinner.
"The good thing is that England have got options with the ball."
PATIENCE IS A VIRTUE
"It's not a wicket where you can run through a team, so all the bowlers will definitely have to be patient.
"It's pretty flat and you need to work hard for your wickets.
"England showed in Australia how they can bowl teams out cheaply on flat wickets by doing the basics well. That is what they've been doing for the last year or so.
"The team that is the most disciplined will probably win."
WARMING TO THE TASK
"It was a bit humid when we went [in March] but it wasn't ridiculously hot. And it won't be as hot at this time of year.
"The weather changes quite a bit. It can be cool one day and hot the next.
"One thing with the heat is that it flattens the pitch out."
DESERT LIFE
"The stadium is Abu Dhabi is unbelievable. The practice facilities are good, the changing rooms are nice, most of the things out there are of a very high standard, and everything England need is there for them.
"The ground is smack bang in the middle of the desert and, when I went there in 2009, it was literally there by itself.
"Every year since there have been new buildings, so they're developing around it.
"Pakistan have got a massive support base all over the world and I'm sure the crowds will be much better than when we played."
AWAY FROM THE PITCH
"We were there for about a week when I played for the MCC and there's quite a lot to do.
"But it's one of those places where once you've done it once, you don't want to be doing it again.
"There are a lot of good golf courses out there to help the England players relax and there are a few shopping centres.
"They will find things to do to get away from cricket and from the hotel."