Andrew Flintoff admits despair after 2006-7 Ashes loss
Last updated on .From the section Cricket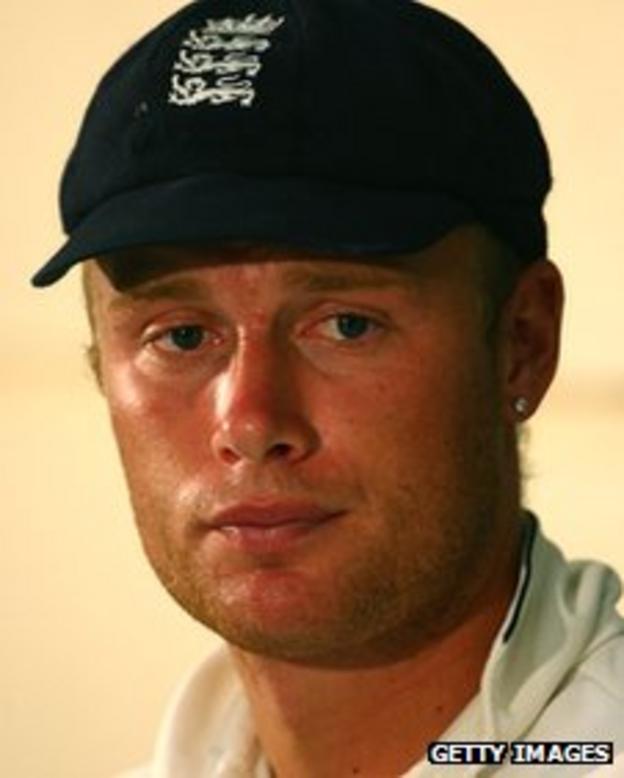 Former England captain Andrew Flintoff admits he sank to "an all-time low" during the 2006-7 Ashes series in Australia, when his team lost 5-0.
Flintoff discusses the mental health problems of top sportsmen as part of a BBC programme, "Hidden Side Of Sport", to be shown on 11 January.
"On that trip I was probably at an all-time low both personally and professionally," the 34-year-old said.
"It was hard for me to speak about it to people, even in the dressing room."
Flintoff, who retired from Test cricket after the team regained the Ashes in 2009, was forced to retire from all forms of the game the following year because of persistent injuries.
In the BBC One programme he also talks about his problems with alcohol at the 2007 World Cup, during which time he lost the England vice-captaincy because of the infamous incident in which he took a late night trip in the Caribbean Sea in a pedalo.
"I didn't read any of the press (about the pedalo incident) and I'm glad, because I was feeling so low that if I'd read that at the time it might have tipped me over the edge.
"The whole time I was on the field and throughout that World Cup all I could think about was that I wanted to retire.
"I didn't understand what was happening to me. I knew when I got back to my room I couldn't shut off, which is why I started having a drink. It got to the stage where I was probably drinking more than I should.
"One of the things that stuck out was the disappointment people had in me, the feeling I'd let people down. That doesn't just mean my team-mates and my coach - your family are reading that, my mum's read it, my nan's read it. (It's) a feeling of embarrassment and shame."
Flintoff was an integral component of the England team that beat Australia in the legendary Ashes series of 2005, and was appointed captain in the absence of the injured Michael Vaughan for the 2006-7 Ashes tour.
But England capitulated to a 5-0 whitewash, losing the Boxing Day Test at the Melbourne Cricket Ground by an innings and 99 runs, and the final match at Sydney by 10 wickets.
Flintoff's form suffered with the burden of captaincy, and he scored 254 runs and took 11 wickets, compared with 402 runs and 24 wickets in the 2005 series.
"I was supposed to be this character who was unflappable," he said. "I was having a drink with my dad on Christmas Eve 2006 and as we made our way home I started crying my eyes out.
"I told him I'd tried my best but that I couldn't do it any more, I couldn't keep playing. We talked and I dusted myself down and carried on. But I was never the same player again.
"I was captain of England and financially successful. Yet instead of walking out confidently to face Australia in one of the world's biggest sporting events, I didn't want to get out of bed, never mind face people."
Freddie Flintoff: Hidden Side Of Sport is on BBC One on Wednesday, 11 January at 2245 GMT