Test cricket still important to the North West - Lancashire chief
Last updated on .From the section Cricket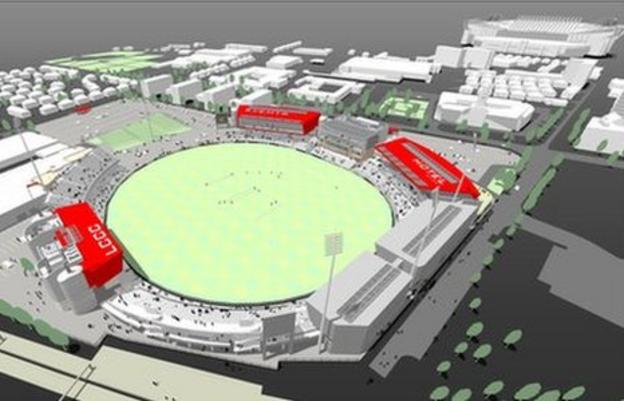 Lancashire chief executive Jim Cumbes has reiterated the importance of having a Test-match venue in the North West.
"When we set out on this journey, we did debate whether we should look at becoming just a county ground," he told BBC Radio Manchester.
"We decided that, apart from us liking and wanting international cricket here, it's the only venue in the North West."
After not being awarded any England Tests in 2011, and missing out on an Ashes Test two years earlier, the club decided to go ahead with the £32m redevelopment of the ground.
Work was initially delayed after a number of legal challenges by property company Derwent Holdings, who argued that Trafford council's approval of the redevelopment was unfair.
But Lancashire said in court that it needed to upgrade the ground to regain the Ashes status it lost in the 2009 series and to secure its long-term financial security.
Last season the Red Rose county ended their 77-year wait to win the County Championship despite playing the majority of their home games in Liverpool at Aigburth.
Despite that success, Cumbes insisted the club's long-term future remains playing games in Manchester.
"It's nothing to do with wanting to play at out-grounds," he added.
"Originally we were hoping to get all our games back here by next year with the possibility of one or two maybe at out grounds as per usual.
"There is still a bit of work to do on the wicket which Matthew Merchant, our groundsman, wants to do early on so that prevents us from using the square.
"Everything went okay there [Aigburth] last year, it worked out well for us. We didn't lose many days to the weather at all and hopefully it will be the same this year.
"But obviously when you've got headquarters like this [at Old Trafford] we do want to be playing here."