Kevin O'Brien is named Ireland vice-captain for 2012
Last updated on .From the section Cricket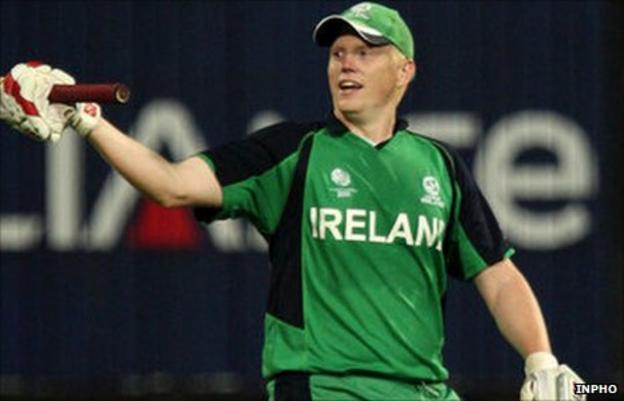 Kevin O'Brien has been named as vice-captain to Ireland skipper William Porterfield for the 2012 season.
The Gloucestershire all-rounder takes over from Trent Johnston who has served Ireland as either captain or vice-captain for nearly seven years.
O'Brien was the hero of Ireland's World Cup win over England and captained the side to wins over Namibia and Canada in the Intercontinental Cup last year.
"It's a huge honour for me and a part of the game I enjoy," said O'Brien.
"Trent has been a fantastic ambassador for Irish cricket both on and off the field," explained Ireland coach Phil Simmons.
"It's a difficult decision but in terms of future success, I believe now is the best time for a seamless transition.
"We have a few tours coming up to Kenya and the UAE, and it's a perfect opportunity for William and Kevin to gel together.
"I still believe Trent has much to contribute both in terms of playing and coaching input - you simply can't replace that quality and experience he has.
"I'd like for him to concentrate now on getting back to full fitness playing and enjoying his cricket for as long as he can.
"He's been a colossus for Irish cricket and it's no coincidence that much of our success over the past decade has come with Trent in our ranks."
O'Brien said: I've deputised for Trent and William over the past two seasons, and I suppose I've done reasonably well.
"We beat Canada and Namibia quite convincingly in the Intercontinental Cup, and I developed a real feel for it.
"I enjoy the extra responsibility and it takes your involvement to a new dimension as you're always thinking of the next move as a captain.
"I've been fortunate to play under both Trent and William's captaincy during my six years in the squad - it's been a golden age for Irish cricket with some memorable wins in that period.
"I'm close friends with William and I'm confident we'll forge an excellent partnership."
Johnston said he believed he "still has a lot to offer both the team and Cricket Ireland in the years ahead".
"My recovery from the knee surgery has gone well, and I'm on track to be fit for the upcoming tours.
"I'll now be focusing my efforts on getting my match fitness and helping Ireland qualify for the finals of both the T20 and 50-over World Cups."