ICC has 'no plans' to offer Test status to Combined Associates
By Saroj Pathirana
BBC Sinhala Service
Last updated on .From the section Cricket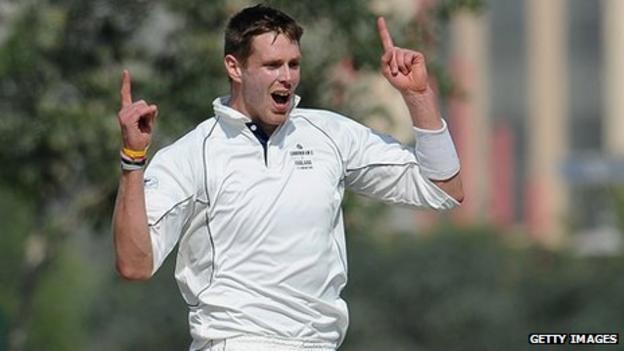 The International Cricket Council says it has no immediate plan to grant Test status to a group of best talent from Associate nations.
David Richardson, the ICC's general manager of cricket, says the proposal by Ireland bowler Boyd Rankin is currently not being given serious consideration by the ICC.
Warwickshire paceman Rankin suggested that granting Test status to a Combined Associates team could be the way forward to develop Test cricket and to offer opportunities to the best talent from outside full members.
Speaking in Dubai ahead of England's first tour game against an ICC Associates and Affiliates XI, of which he was a member, Rankin said: "In terms of performances it can show the ICC there is room for an Associate team playing Test cricket. A Combined ICC team is more than capable of playing against the best sides in the world."
The ICC, however, is of the opinion that it is too early to consider such a move.
"Test cricket has generally been considered as nation versus nation and the top performing nations against each other, restricted to the 10 full members. So anything like this would have to be seriously thought through before any decision can be made," Richardson told the BBC Sinhala Service, Sandeshaya.
Rankin's call is, however, supported by other Associates and commentators alike.
Roddy Smith, CEO of Cricket Scotland, said the best team from "Associate World" should be given an opportunity to play multi-day cricket "at the highest level possible" until individual nations are offered Test status.
"If you ask Boyd Rankin he would rather play Test cricket for Ireland than playing Test cricket for the ICC Associate combined team," he told the BBC.
"So yes I'm very supportive of the ICC combined side; in the short term it is the good way forward but in the longer term all the individual countries would like to play Test cricket."
Cricket Kenya's CEO, Tom Sears, who is also supportive of the idea, "as long as it does not preclude any country becoming a Test playing nation", has another suggestion.
"I would go further and say any two countries can play a five-day Test match against each other as long as they satisfy certain criteria," he told the BBC Sinhala Service.
"Why can't Kenya play Ireland in a Test? To me there is no valid reason and it could inject new life into Test cricket - something the ICC say they are committed to doing."
Rod Lyall, the editor of Cricket Europe, however, said Rankin's call was "not the best way forward" for the development of Test cricket.
"In some way it might even be a disaster," he said. "I don't want to see ICC being taken off the hook of opening up cricket at the highest level by saying OK so we'll give you competent team of Associates and Affiliates and then we have done enough.
"No, they won't have done enough."
Cricinfo UK editor Andrew Miller, who described Rankin's proposal as a "radical notion that has it's length," says one should be realistic of future prospects.
"I think you got to draw the line somewhere. I think realistically in Test cricket, you are going to struggle to get a team like Ireland really so far up the ladder," he said.
The ICC, however, agrees that that other games such as rugby has similar teams in Combined Arabian Gulf Team and the composition of West Indies also goes against the argument of "nation against nation" notion.
"Yes, there is a precedent for it as you mention," Richardson responded.
"But bearing in mind that certain countries like Ireland have got their own ambitions of getting Test status at some point so it is [Rankin's call] something that has not been thought of before, up to now," he added.
Rod Lyall, who strongly supports Ireland's ambition to be the next Test team, is a strong critic of the ICC saying that "too much power" is centralised in the hands of a "small number of countries."
"If you look at the structure of other international sporting bodies, cricket is virtually unique in the way in which a small club is able to dominate the entire system, making sure they get most of the money, and denying an access to the same sort of power to other countries," he told the BBC Sinhala Service.
Associate countries, including Cricket Kenya's Tom Sears, agree with Lyall's view of the way ICC conducts its affairs.
"At the moment there is a glass ceiling that Associates cannot break through and this has to change," Sears said.
The debate, it seems, will continue at a time the ICC is awaiting a detailed independent review on its own structure and governance by Lord Woolf.