Glamorgan look to replace Alviro Petersen
Last updated on .From the section Cricket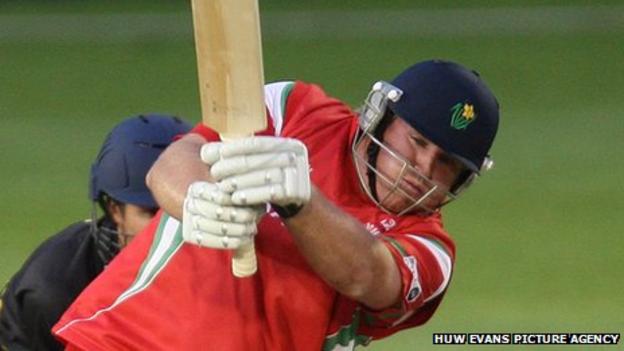 Glamorgan say they could look to replace Alviro Peterson, who is not re-joining the county for the 2012 season.
Peterson was due to come back as a Kolpak signing but is now back in the South Africa Test team.
One of the possible options for Glamorgan is to re-sign Mark Cosgrove.
"We have always made it known whenever he [Cosgrove] wants that opportunity to play for Glamorgan then we would be very open to chatting." said Glamorgan coach Matthew Mott.
In the past Australian batsman Cosgrave has been employed as an overseas player by Glamorgan, but they have his fellow countryman Marcus North on board for 2012.
But Cosgrove has the option of a UK passport as his parents are British-born.
"He has to make up in his own mind where he sits in Australian cricket before we can really get into any sort of discussion about that," added Mott.
"But it's certainly one avenue that I'm sure we'd look at."
Cosgrove scored more than 2,000 runs during the 2010 season but was only required as a Friends Life t20 recruit in 2011 because of Petersen's presence as the main overseas player.
But Cosgrove had a pretty average t20 competition by his standards.
Glamorgan admit it has been a setback that Petersen will not be coming back to the county, although they say they will be looking to use the funds originally set aside for the 30-year-old South African.
"I suppose one door closes and a couple of others open," added Mott.
"We have got our thinking caps on at the moment... on how we can replace Alviro who was a massive part of our plans.
"We are extremely disappointed he decided not to come. We had done a lot of hard work behind the scenes and we were very excited about the impact that he was going to have as a Kolpak player.
"But that's gone now and we need to move on and certainly the next few days will shape which way we go.
"In the back of the mind we always thought it was a possibility he would continue to play for South Africa but we were quite confident we had him signed.
"It's not back to square one but we have got to make some other options come up fairly quickly.
"We'll certainly be looking to use those funds. And there is a number of ways that we could use those funds, not necessarily with just one player.
"We have spoken about sending some players for some intensive training in India which previously we wouldn't have been able to do.
"We are not entirely sure how we are going to utilise that extra money that has now become available but we will be trying to make it go as far as we possibly can.
"It's all about the qualification. Alviro was almost too good to be true - an international player who had played for the club and ready to commit.
"But they don't come a long that often and something we have spoken about is that we do want someone connected to the club in some way.
"We just have to think a little bit outside the square. There is a number of opportunities that will now present themselves and we will explore every single one of them and hopefully make a decision in the next couple of weeks so we have got some formal structure going forward."