Nottinghamshire CCC announce record surplus of £542,210
Last updated on .From the section Cricket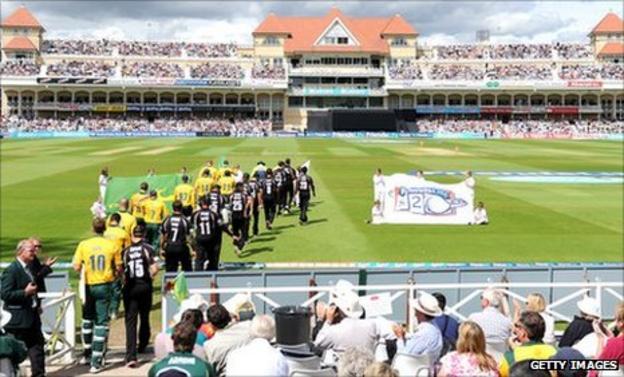 Nottinghamshire County Cricket Club have announced a record surplus of £542,210 for the year to 30 September.
Strong ticket sales for international matches, an increase in T20 attendances and a rise in membership numbers contributed to the financial results.
Chief executive Derek Brewer told BBC Radio Nottingham: "It has been a good year and it reflects well on everybody at the club.
"These are great results but there's no complacency at all."
Trent Bridge won the right to host Ashes Tests in 2013 and 2015, an India Test match in 2014 and one-day internationals against New Zealand, Sri Lanka and Pakistan from 2013 to 2016.
Brewer continued: "If you go back 20 years or so, the committee had the foresight to put in place a strategic masterplan, which the club has really stuck to since then.
"We had great attendances last year for Twenty20, and the international matches at Trent Bridge against India and Sri Lanka went really, really, well.
"We need the Nottinghamshire public and the East Midlands public to keep on supporting the matches at Trent Bridge, particularly this year, that's very, very important."
Chairman Peter Wright added: "International cricket is vital to our financial prosperity and having a guaranteed supply of matches to 2016 will allow us to continue to invest in our team and our venue.
"We're very proud of what we have achieved but a lot of hard work remains and it is very important that our members and cricket supporters in general continue to attend matches at Trent Bridge."
Nottinghamshire were the most profitable county club in 2010 with a pre-tax surplus of £189,370.