Pakistan v England: Jonathan Agnew column

By Jonathan Agnew
BBC cricket correspondent
Last updated on .From the section Cricket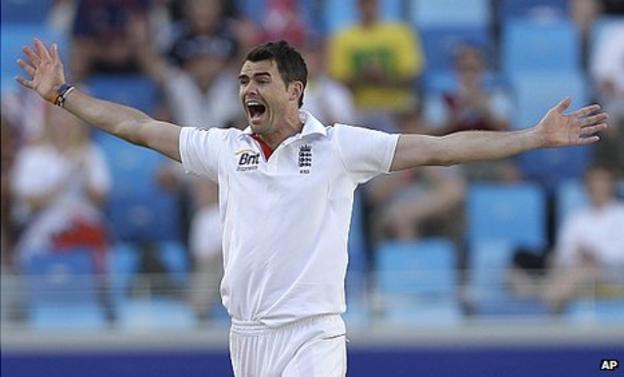 England's bowling display on day two in Dubai showed exactly why they have got to number one in the world.
The don't give runs away easily, they are very controlled, they know what they are doing and they work to a plan.
When you are defending a very low total you simply can't afford to bowl any bad balls, every over matters.
If you are a confident side that is used to winning you know how to apply pressure. If you are a side that is low on confidence that is not used to winning matches then you tend to roll over in these situations.
That is when you start to see field lapses, balls going through legs and arms waving as the game runs away from you.
England are in the former category. They will squeeze the opposition no matter what the state of the game and they have fought their way back into this one.
If England had scored the 400 they should have scored in the first innings then this would have been a bowling performance to set up a possible win, but at the moment they have been trying to dig England out of a hole that their batsmen got them into.
Unfortunately from Pakistan's perspective, Mohammad Hafeez gave his wicket away. He was nailed on for a hundred, having played really well and he had a lapse just as England's batsmen did yesterday.
Graeme Swann was desperate for a wicket and he was gifted it, and a mistake like that opens up opportunities for a bowling team.
Each one of England's bowlers did something and made the batsmen work, even Jonathan Trott chipping in with a wicket.
It was a clever piece of captaincy to bring him on just before tea and Trott rewarded his skipper's faith with a crucial wicket.
It always helps when one of your back-up bowlers can take a wicket, and if Strauss is asked about the balance of the side again after the match, I'm sure he will point to Trott's wicket to justify the argument that four front-line bowlers are enough.
England are back in the match but there is plenty of hard work ahead if they are going to turn things around.
The ball is spinning a little more than it did yesterday and with Saeed Ajmal bowling you need to double the amount of turn because he spins it both ways.
England are going to need to play him much more patiently and sensibly than they did in the first innings.
It will be a very important second innings for England in terms of the series as a whole.
If Ajmal runs through them again, England have no time to get over it, and he could easily go on and win the series for Pakistan.