Pakistan v England: Graeme Swann happy for ICC to rule on Saeed Ajmal
Last updated on .From the section Cricket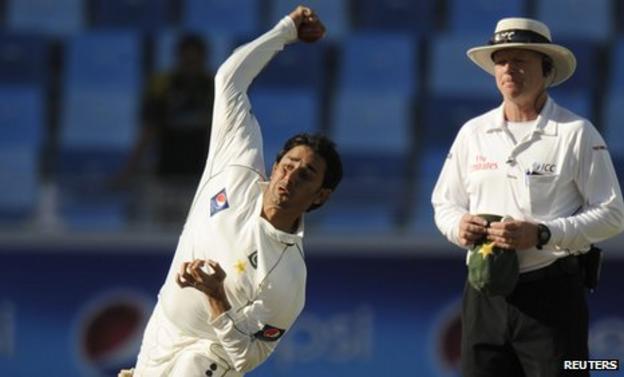 Graeme Swann says England's cricketers have not discussed the legitimacy of Saeed Ajmal's bowling action.
Swann believes his team-mates are happy for the International Cricket Council to rule on the legality of the Pakistani's 'doosra' delivery.
"We have to play the ball that comes down to us," the England bowler said.
"If there is anything wrong with his action, I'm sure the ICC would pick up on it."
Ajmal finished the first Test in Dubai with figures of 10 for 97 and the man-of-the-match award, as Pakistan beat England by 10 wickets.
However, questions have been asked on whether Ajmal's delivery adheres to the ICC rule allowing a 15-degree straightening of the bowling arm. England team director Andy Flower failed to defuse the situation on Friday with his refusal to endorse the action.
Swann added: "Some people are talking about Ajmal's action but it's not a topic of conversation in our dressing room.
"Spinners - especially those who bowl the 'doosra' - have eagle eyes watching them.
"It's not up to us to say whether it is a fair delivery."
Trott, who was the only England batsman not to lose his wicket to a spinner in the first Test, said it was the not the role of opposition players to comment on such issues.
He said: "We should not worry about the legitimacy of someone's bowling action.
"It's not our job to do anything with regards to opposition players."
Ajmal's bowling action was not reported by the on-field umpires Billy Bowden and Bruce Oxenford.
Swann believes the England team's focus must instead be on their poor batting display in both innings of the first Test, where the team was bowled out for 192 and 160 - and lost by 10 wickets.
The spinner added: "This is not a time to lose our honesty - we batted like a bunch of morons in the first Test. Twice our batting collapsed beneath a selection of bad shots.
"We resembled cricketing dinosaurs in the way we failed to respond to Pakistan's bowling.
"We were caught on the hop by opponents who were sharper on the first day and there was no clawing it back."
Trott expects the England team to recover from the defeat. He is focused on winning the second Test in Abu Dhabi, which starts on Wednesday.
He said: "Being a part of this England team for two or three years, we've had a few losses and we've managed to bounce back in the following game."