Pakistan v England: Monty Panesar welcomes Test return
Last updated on .From the section Cricket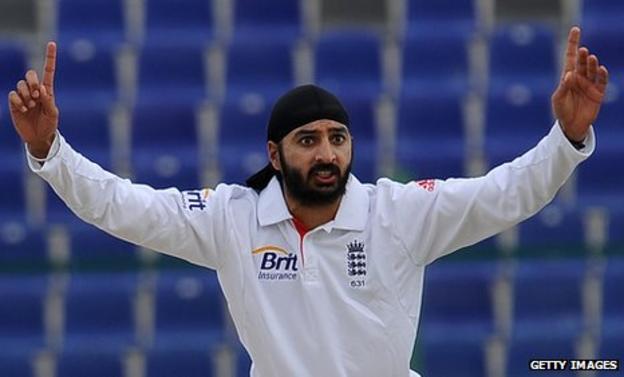 England spinner Monty Panesar admitted he was "really excited to come back after such a long time" after his recall to the Test XI for the in Abu Dhabi.
Panesar bowled a marathon 33 overs on his first day of Test cricket since 2009, bowling opener Mohammad Hafeez.
"There was a bit of nerves flying around, but I was really pleased to be back," the slow left-armer said.
"Hafeez was a nice wicket to get after I dropped him the ball before."
Having failed to hold on to a caught-and-bowled chance, the Sussex man struck with his very next delivery.
Talking about the ball which got Hafeez out, he added: "All spinners try to say we meant it but I think it just hit the leather and skidded on.
"From my end there was a bit of turn and we had the right-handed batsmen in play, so the ball turning away helped."
Panesar's former Northants team-mate Graeme Swann only bowled 18 overs, but finished the day with 3-52.
"Swanny's got a prolific record against left-handers, and that last wicket [Abdur Rehman] was a great one," Panesar added.
And speaking on Test Match Special, he added that England would have settled for leaving Pakistan seven down after losing the toss at the start of play.
"The whole bowling unit did a fantastic job," he said.
"Swanny bowled really well with the second new ball and Jimmy [Anderson] and Stuart Broad upped the ante. We'd have taken that - seven down at end of the day."
Meanwhile, Pakistan interim coach Mohsin Khan was upset with the manner of Asad Shafiq's dismissal, after the batsman was trapped lbw by Swann just before the second new ball was due.
The former Pakistan opener said: "Shafiq was playing marvellously well, but then he lost his wicket and all the pressure came back on us.
"Whether it's a senior player or a young player, if somebody's playing for their country they should understand the responsibilities of playing for the team.
"I had a go at him - in a loving way, no doubt - but he's been told very seriously this is not the way to get out especially when the team is struggling to get a better score.
"Some of the batsmen are getting very good 40s or 50s then getting out. This is a problem we have to sort out as soon as possible."