Pakistan v England: Jonathan Agnew column

By Jonathan Agnew
BBC cricket correspondent in Abu Dhabi
Last updated on .From the section Cricket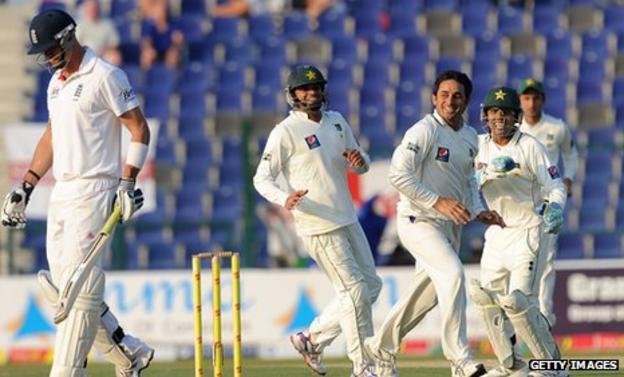 The second day of the second Test was absolutely gripping and it is turning out to be another brilliant match.
It will be a huge morning tomorrow for both sides and then a lot of pressurised cricket will come after that.
Whichever way it goes, I doubt it will go the distance and that wicket of Eoin Morgan to the final ball of the day just gives Pakistan the edge again because England will have to bat last.
Chasing 180-200 will not be easy. They need to at least get level on first innings then put the pressure on the Pakistan batsmen.
For now, it's all about the morning. Can England survive until lunchtime? Do Pakistan take the new ball? Do they keep going with the spinners? Can Ian Bell find some way of picking which way the ball will spin?
England need to eke out every run in the morning, and hope some Pakistani frustration - which showed in the afternoon session when they burned off their two reviews - can help them build a lead.
This series continues to surpass expectations in terms of the excitement of the cricket and I think that is down to both side's batting being a little uncertain.
The ball is spinning, which is something we don't see much of at home. When the ball dominates the bat, as it is, you know that one wicket can produce three, which spreads panic in the dressing room. All of those put together make for exciting cricket.
That said, Alastair Cook and Jonathan Trott batted brilliantly in the afternoon, showing all the qualities England were lacking in Dubai.
At that time, the pressure was getting to Pakistan and it needed Abdur Rehman to produce a very good ball to remove Trott and that allowed Saeed Ajmal back in. However, England showed what can be done with application and a little luck.
Despite the performance of their two most consistent batsmen of the past year, England must be concerned about the form of other members of the top six.
Andrew Strauss is now officially in a lean trot, and it is a worry when the captain is struggling. It's not an issue when the team is winning but it is when you're not - that's when the captain's place comes under scrutiny.
The problem for Strauss is that he is not comfortable on these wickets. He prefers quick bowling and the ball bouncing, but he is not going to get too much of that this year. I'm not too sure what his best way out of that trot is.
Kevin Pietersen's was an unusual dismissal, and I'm sure he'll shrug it off. However, that is only partly true and it was a poor shot.
Morgan didn't know which way the ball was spinning, which isn't necessarily his fault because it's not easy, but he did not look like the man for a crisis. There are question marks over his Test match future.
Today we were also able to announce that the BBC has agreed a new six-year radio rights deal with the England and Wales Cricket Board.
It's great news for the programme and for the Test Match Special listeners.
TMS has been around for a very long time and it has evolved through the years but still provides the same thing, which is - hopefully - a top-class cricket commentary with some fun and entertainment thrown in.
I'd like to think it's a nice way for our listeners to pass a day and it's good for the game that we have reached this agreement.