Deja vu on the county circuit

By Kevin Howells
BBC Radio 5 live cricket reporter
Last updated on .From the section Cricket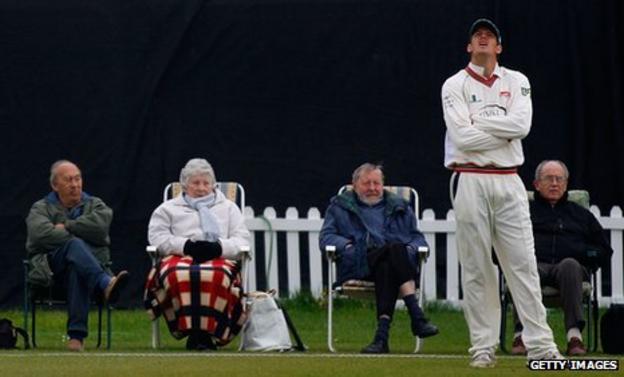 As England battle to retain their number one Test status, there are rumblings back home over the best way forward for the domestic game.
Reviews and future strategy are nothing new for the first-class counties.
Every now and then - and far too often for many people - a new structure is set in place, yet as soon as it introduced somebody somewhere says, "we can do better than that", and off they go again.
The usual battle lines are drawn: club v country; Test grounds v non-international grounds; commercial v cricketing benefits.
Often these arguments and debates are answered by those holding the purse strings. In this case it would be the governing body, the England and Wales Cricket Board, that hands out big sums to the counties. But it isn't that simple.
Financial problems amongst some clubs are perhaps to be expected in the current economic climate, but several went anxiously close to going out of business in recent years.
That appeared to trigger the latest review and report - started early last year - into the role of 'best business practice' for the domestic game.
Somewhere along the way former International Cricket Council president and ECB chairman David Morgan assumed control of the review and, with it, a wide-ranging remit.
this month. The main recommendations with 2014 in mind were reducing the County Championship to 14 matches per county from 16, reverting from a 40-over to 50-over one-day competition and increasing Twenty20 matches from 10 to 14, spread across the season and played Thursday to Saturday.
At present they are played in a block mid-season. In an example of the constant tinkering, it has only just been brought back to 10.
As for the Championship in detail, Morgan decided it was best to stick with two divisions of nine, which, under his proposals, would mean counties play some counties once and others twice - and prompting critics to complain of a lack of integrity in the competition.
Morgan also scheduled the first 15 rounds of games to involve play on a Sunday.
The ECB did not fully back the report publicly, but said in a statement how grateful it was to Morgan, and took the proposals to the First Class Counties (FCC) group at a meeting held last Monday.
The review consulted widely with cricket supporters, commentators, officials, current and former players, counties and other sporting bodies.
The board concluded that the review was all-encompassing in its approach and therefore determined that it should be adopted in full or not at all.
It was that tone which partly led the ECB chairman and chief executive to enter Lord's on Monday perhaps thinking this was a done deal.
That was not the case, however. The ECB, concerned not to show itself to be dictatorial and aware of maintaining good PR, welcomed the views expressed by the counties.
While the counties liked sections of the recommendations, especially the bits which gave them an even bigger voice within headquarters, they felt Morgan had not gone far enough in his desire to make the domestic structure spectator led.
Flexing their muscle - and seemingly buoyant from a report which at the same time they could not ratify - the counties have returned a fresh set of proposals to yet another board meeting early in March.
Sources have spoken of a consensus within the meeting, which is pretty rare amongst such a group.
Up for discussion remains the issue of 14 games in the Championship, but with an elite league of eight teams and a second division of 10.
A different programme from the one Morgan drew up which would include more one-day cricket on a Sunday and Championship cricket in midweek and to stick with the current 40-over competition - rather than the 50-over format played internationally.
Some counties would love to give this season's format a good run to see if that works and by no means is the argument regarding 16 or 14 Championship matches over. However, the signs are that the new proposals will go through.
Morgan talked a lot about a 'New Deal/New Relationship' between the ECB and the counties, and the desire to choose 40 overs in favour of 50 will be an early interesting test of that.
Some - myself included - question the wisdom of playing both T20 and Clydesdale Bank 40 matches over the same weekend as it could make the latter seem very pedestrian.
Also, while an elite league might be well received, teams playing in a second division which is still asymmetrical could easily feel like outcasts.
I would add that those currently playing in Division Two are as likely to get picked by England as those in Division One.
Despite the best efforts of many, the game is in danger of making itself look a laughing stock if these constant reviews continue.
Mindful of that, the meeting on 8 March could at last move things forward. But do not be surprised if we do all this all over again - and soon.