Pakistan v England: Jonathan Agnew column

By Jonathan Agnew
BBC cricket correspondent in Abu Dhabi
Last updated on .From the section Cricket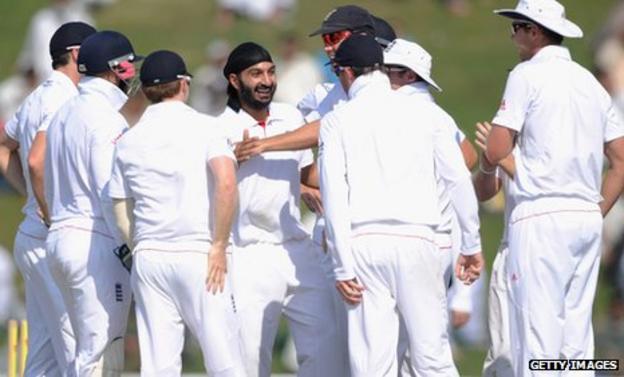 England ended the against Pakistan thinking they are well placed to level the series and they look bang on course.
However, the partnership shared by Asad Shafiq and Azhar Ali was frustrating for the tourists and showed some fight from the hosts. It was a good effort to hang in there for most of the final session.
It was noticeable that when Shafiq and Azhar got themselves in, the ball rarely beat the bat and it stopped looking dangerous for the batsmen.
Having said that, if England have to chase over 150 then it might take a bit of getting - not because the pitch is posing too many problems, but because of the pressure of the situation.
After getting into a position from where they can win the game, the tourists have a lot to thank Stuart Broad for.
The way he counter-attacked in the morning session was exactly what England needed and it was brave of him to do it.
It seized the initiative and, after bowling well in the first innings, he bowled very accurately in the second innings to allow the spinner at the other end to be the main threat.
That threat, in the main, came in the shape of Monty Panesar.
The slow left-armer, on his recall to the side, bowled really well for his three wickets.
He has bowled many more overs than Graeme Swann and has justified the faith placed in him by captain Andrew Strauss.
Younus Khan could have been a real threat to England, but Panesar got him with a beauty that pitched on middle stump and hit off.
He's also an extremely popular character - at one point today he was trending on Twitter - and it's clear that people like him.
He doesn't attract attention; he's a very quiet polite individual. Panesar can be very earnest. He doesn't make you crack up with laughter but his enthusiasm endears him to the fans.
People can see how hard he is busting a gut for the cause and they can see he is desperate to succeed.
He may even have lost his place in the side sooner had he not been so popular with the fans. Put simply, the fans find it easy to warm to Monty.
Panesar's spell was seen by the biggest crowd of the series so far, and that was terrific.
Fans came to the match after Friday prayers and filled the ground in a way we were told they would before the series started.
It was free to get in, so maybe that is a lesson to some of the countries struggling to fill their grounds - is it really worth charging people the equivalent of a few pounds rather than let them in for nothing?
Sport is supposed to be played in front of spectators, and the cheering, chanting and drum-beating inside the ground today contributed to a really good atmosphere.
Listen to day three commentary highlights and the Test Match Special podcast