Pakistan v England: Jonathan Agnew column

By Jonathan Agnew
BBC cricket correspondent in Abu Dhabi
Last updated on .From the section Cricket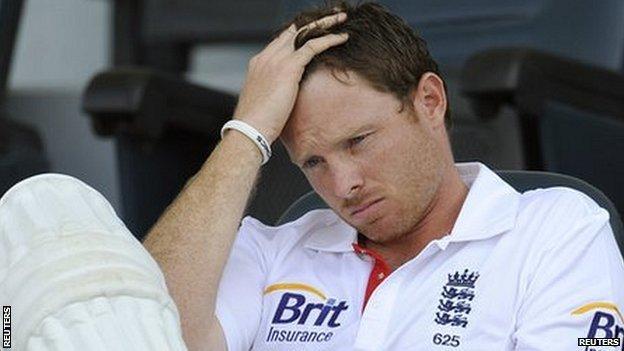 England's in Abu Dhabi was a throwback to the bad old days of chaotic, mindless batting collapses that produced a series of embarrassing defeats.
A target of 145 was more than gettable on that pitch and in those conditions.
If you look at the bare statistics in England's second-innings total of 72, 50 runs were scored by Andrew Strauss and Matt Prior. Only 13 were scored by the other nine batsmen combined.
It was a shambles, a really awful batting performance. There was nothing wrong with the pitch at all; it only offered some slow turn.
The footwork of England's batsmen was all over the place, and it is clear some of them have no confidence when it comes to playing spin in these conditions.
Abdur Rehman bowled perfectly adequately, but he is not a top-class left-arm spinner. What happened in the second Test is a hangover from what Saeed Ajmal did to them in the .
Kevin Pietersen, planting his foot down the track, is a walking DRS victim, Eoin Morgan looks like he has no confidence and, likewise, Strauss, worryingly, is back to playing how he was when he almost lost his place in the side.
Coach Andy Flower was a tremendous player of spin but, apart from talking to the players, he knows they have to figure it for themselves.
These are top-quality international players. It's not like taking a youngster into a net and throwing him a load of half-volleys.
Morgan is under the most threat, but even if Ravi Bopara comes in, he hasn't played much cricket. However, it's not healthy if players who aren't performing are able to keep their places - it sends out a bad message.
The left-hander looks so bereft of presence at the crease that it could be a change almost out of kindness to him. Other than that, there's not much to do. England simply have to play better.
Hopefully, a chastening performance like this will make some of the players realise they have a problem. Then they have to work out a way to solve it.
It's up to the individuals to work out a way of doing it themselves. Those who can do it will fight their way through; those who can't will fail.
England are still ranked number one in the world and they have to show they can play successfully in all conditions.
At the moment, only the bowlers are looking like world-beaters - they have been superb in this match.
There are a lot of even teams in Test cricket at the moment, and teams that don't travel well. However, there's no point being number one in the world only in certain parts of the world.
England are very proud of their ranking, but they have to work out how to play in these conditions, otherwise they won't be number one for much longer.
Looking ahead to the last Test, there are people not only playing for their places but also playing for their credibility.
In the first match of the Strauss-Flower partnership in 2009, England were bowled out for 51 by West Indies. This is the biggest problem facing them since that defeat.
From that very poor beginning, Strauss and Flower managed to put together a good team with a good work ethic that got to be the best in the world. Now, those players need to accept they have a problem.
They have to be honest with themselves. If they simply shrug it off, they won't improve.
Listen to day three commentary highlights and the Test Match Special podcast.