Pakistan can be world's best Test team - Mohsin Khan
Last updated on .From the section Cricket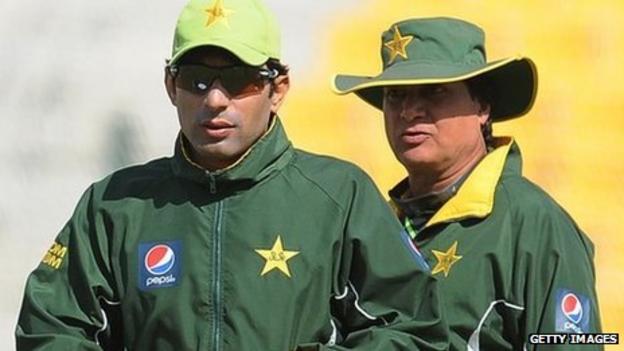 Interim coach Mohsin Khan believes Pakistan have the ability to become the best Test team in the world.
Pakistan beat England by 72 runs in the second Test to hold an unassailable 2-0 lead in the best-of-three series.
"This team has the capacity to become the best," said Mohsin. "But we have to perform in other parts of the world."
England need to beat Pakistan in the final Test of the series to be sure of retaining their number one spot in the rankings at the 1 April cut-off.
Should England lose, they will finish on 118 points and South Africa will take over if they win all three Tests of their series against New Zealand in March.
If England draw the final Test in Dubai they will end on 119 points but still lose their status at the top of the rankings, by 0.01 of a point, provided South Africa sweep the Black Caps.
Pakistan are fifth but if they complete a 3-0 series win over England they will close the gap on India and Australia in third and fourth to only three points.
"Our target should be to gradually come in the top three in both Tests and one-day, and then gradually go to world number one," added Mohsin, who was appointed temporary coach after Waqar Younis quit last September.
"When I came as coach I knew that this team had talent in abundance so my first priority was to make them mentally and physically strong.
"We won a lost match on Saturday, but the kind of belief and self-confidence this team has shown is great."
Pakistan have won eight of 14 Tests under Mohsin, losing only once, and have been victorious in three series.
India and Australia are level on 111 points but the former is ranked third by a fraction of a point despite losing the recent series between the two 4-0.
Meanwhile, Mike Hussey has revealed that Australia regularly speak about reclaiming the number one Test ranking from England.
Writing in a column for a Perth newspaper, the 36-year-old batsman said: "There's no hiding our ambition.
"We want to reclaim the world number one mantle from England. How often do we talk about it? Every day."
However, Hussey acknowledged that Australia have plenty of work to do if they are to build on the victory over India and bridge the gap to England.
"This series has been a great stepping stone for us, but as captain Michael Clarke and coach Mickey Arthur drill into us every day - it's the beginning of a journey," he wrote.
"India [were] ranked the number two Test team in the world so it's been a noteworthy performance.
"But we know there's a huge improvement to be made if we're to conquer the old enemy next year in England."