Alec Stewart column: England need to have learned their lessons

By Alec Stewart
Former England captain and 5 live summariser
Last updated on .From the section Cricket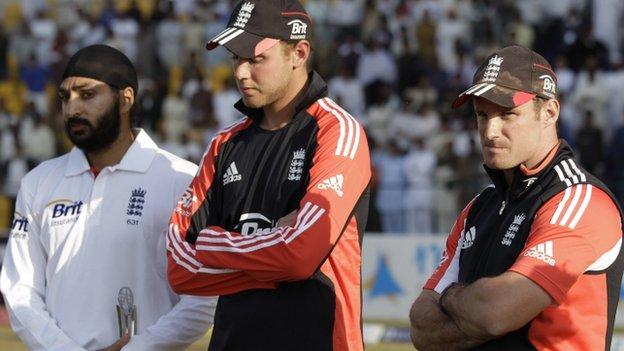 In the first of his new weekly columns for BBC Sport, England's most-capped cricketer and TMS and BBC Radio 5 live pundit Alec Stewart says the current squad need to take individual responsibility after the series defeat by Pakistan
When you have already lost a series, the last thing you want is to be whitewashed and England will not have any trouble motivating themselves for the final Test against Pakistan in Dubai, starting on Friday.
They need to treat it as a one-off Test match and make sure they have learned the lessons of the first two games when their bowling and fielding were fine, but their batting fell way short of the standards you would expect from the number one side in the world.
When they go out to bat in Dubai, England's batsmen need to have clear individual game plans for tackling the Pakistan spin bowlers.
You cannot dictate a strategy that will work for all the players. Alastair Cook does not play like Kevin Pietersen, so you don't want him to try to model himself on KP, or vice versa.
Each player has to take responsibility for his own game, for his own thought processes and for making sure he is doing his best to come up with the answers to the questions being asked of him.
It is not going to be easy for England to overcome their demons on these pitches against this Pakistan spin attack. It is hard work, and chasing down that 145 target in Abu Dhabi would have been hard work for anyone barring perhaps India or Sri Lanka.
However, in the first two Tests, there was some clouded thinking in every batsman's head.
I have been there and I know what it feels like. When you are playing well it is second nature, but when it's not going so well, and you are a little bit out of sync with your technique or confidence, then doubts creep in.
I've always said you have got to be positive in attack, defence and in your mindset. If you go in with any doubts or negativity, you will be exposed.
When you are confident you will take on an attacking option, but when you are unsure you almost sit back in your bunker and come unstuck.
With so many batsmen clearly struggling, the selectors may be tempted to make changes and I would consider bringing in Ravi Bopara for Eoin Morgan.
On the one hand, he can't do any worse with the bat, and he does the give the team another bowling option.
On the flip side, Bopara has not played any cricket on this tour so he is going into the game with no match practice or form behind him.
Another option is Steve Davies who is there as a back-up wicketkeeper but in my opinion is good enough to play Test cricket as a specialist batsman.
They could throw a real curve-ball and make two changes by bringing in Davies and Bopara, but I really don't think they will.
Making a change for this final Test would be a really big call and could have repercussions for the rest of the year.
If they make a decision to drop Morgan, are they effectively saying that he is no longer a first choice for the Sri Lanka series in March and April?
The England batsmen have got a lot of goodwill in the bank because of what they have achieved over the last year or so.
With tours to Sri Lanka and India this year, the important thing is that they are given as much chance as possible to improve their techniques on these slow, turning pitches, and if Morgan is left out, he will be missing out on another chance.
It's a really difficult selection to make. It's not just for this game, it's for the rest of the year.