Glamorgan announce debt restructure to 'secure' club's future
Last updated on .From the section Cricket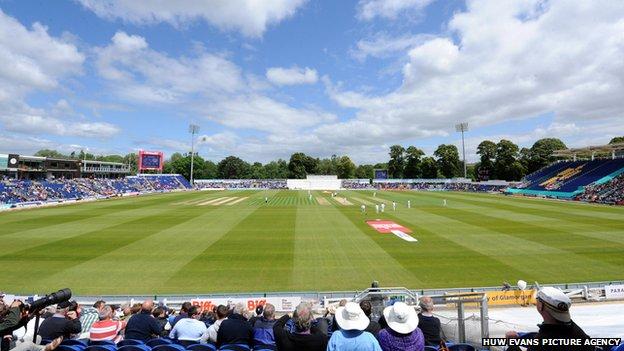 Glamorgan say they have restructured their finances in a bid to reduce their debt and secure the club's future.
In addition, Glamorgan have raised £1.3m from a group of nine private investors.
"We are delighted to be able to make landmark announcement which secures our future," said chairman Barry O'Brien.
"And [it] demonstrates the confidence our investors have in the club's business and prospects following our success in securing 17 days of international cricket over the next five years including the 2015 Ashes.
"We can now look forward to the 2012 season in a positive manner which will also see the club stage an England v South Africa one-day international and the Friends Life t20 finals day in August."
It means that Glamorgan's debt repayments will be reduced by £300,000 to ease a financial position which was not helped when the club was stripped of the right to host England's Test against the West Indies in Cardiff in 2012.
The England and Wales Cricket Board made the decision after Glamorgan said they would be late paying the fee they owed for hosting the Sri Lanka Test in May 2011.
Meanwhile, the club have also announced David Morgan, the former club chairman and former chairman of the England and Wales Cricket Board, has agreed to accept the nomination of president-elect.
Subject to approval of the members at this year's annual meeting, Morgan has agreed to serve a four-year term.
"As the previous chairman of Glamorgan, David is acknowledged worldwide as one of cricket's great administrators and his welcome return to Glamorgan will be of enormous value to the club," added O'Brien.
The financial restructuring means that Glamorgan have extended the terms of their loans.
"As with many other counties Glamorgan has faced financial challenges for a number of years so [the] ' news is particularly welcome," said chief executive Alan Hamer.