Michael Vaughan wants more England aggression in final Test
Last updated on .From the section Cricket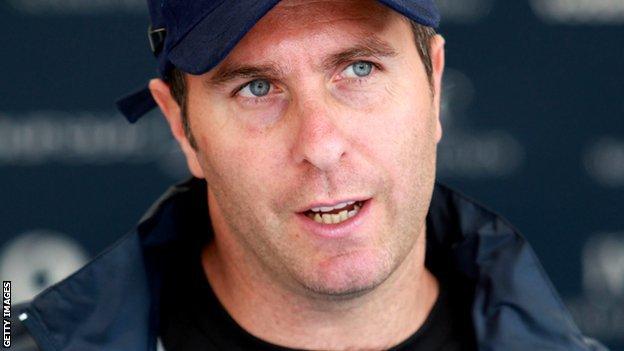 Ex-captain Michael Vaughan has urged England's batsmen to be more aggressive in the final Test against Pakistan after two dismal defeats in the UAE.
England have twice been bamboozled by the hosts' spin bowling to lose .
"The biggest criticism of England's second innings was that Alastair Cook and Andrew Strauss let Pakistan bowl 12 overs for 15 runs," said Vaughan.
"That sent a message to the dressing room that they were playing timidly."
England were on top in the first three days of the Test, but cracked as they chased a modest 145-target to level the series - and Vaughan's advice is to up the tempo.
"Kevin Pietersen and Eoin Morgan are aggressive players," Vaughan told Radio 5 live. "And that's the way they've got to play, even though it's Test match cricket.
"Andrew Strauss has got to go down the more aggressive route too.
"When you look at Strauss, when he's playing well, he likes to dominate the ball and get on top early."
but Vaughan is unconvinced about the need for making changes at this stage of the tour.
"In terms of selection, I wouldn't panic just yet," he said. "The team that played, played well for three and a half days.
"I don't see where you are going to gain by dropping Eoin Morgan for the last game.
"Just say 'Look, we have got a trip to Sri Lanka in a month's time. If you want to be on that plane, you have got to perform in Dubai.'
"I'd stick with the same team and say you have got to play better."
After losing in Dubai and Abu Dhabi, England must win the final Test on their return to Dubai to be certain of beyond 1 April, but Vaughan concedes that will now be a tough task.
"It's going to be hard in Dubai," said Vaughan. "I understand Saeed Ajmal will be harder to read there, because there's a big shadow which goes across the ground and it will be harder to see the ball coming out of their hand."