Pakistan v England: Jonathan Agnew column

By Jonathan Agnew
BBC cricket correspondent in Dubai
Last updated on .From the section Cricket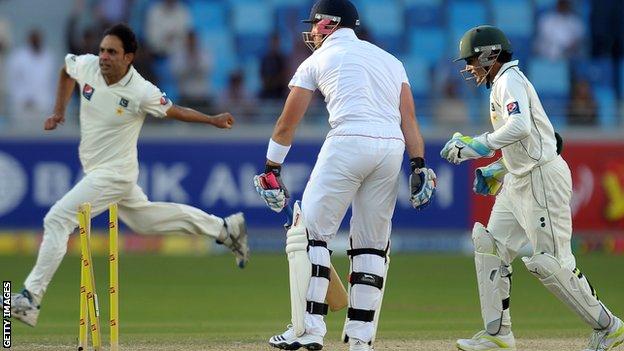 The first day of the third Test between England and Pakistan was one of the most remarkable I have ever seen.
There were perfectly good batting conditions, a benign pitch and the ball behaved itself, yet, somehow, there are gremlins in the batsmen's minds.
The bowlers have dominated the series and that has affected the confidence of both sides.
The Decision Review System has clearly got into the mind of England's batsmen. They are wondering how to keep their pads out of the way in order to play with the bat. The problem with that is they aren't sure which way the ball is spinning.
It is absolutely not the case that the pitch has played a part in the number of wickets that fell. I have been asked if this was the pitch on which they played the first Test, but it isn't.
I looked at it on Thursday and it looked to be a lovely, hard, true pitch. It has turned a little, but nothing devastating.
The poor batting is simply down to mind games, and so much of cricket is played in the mind. When you lose your confidence, the result is low scores.
It is merely coincidental that both sets of batsmen are so low on confidence. Footwork is tentative, straight balls are being missed. As Geoffrey Boycott would say, "their minds are scrambled".
A big contributor to this is DRS. In the days before it, you could offer a pad as a second line of defence and you would be safe. I'm not saying that is the right way, but it is the way a lot of batsmen were given not out as a result.
Old spin-bowling friends of mine would lament it and wonder if they would ever get an lbw decision.
Now, there is a very different mindset. Umpires are being encouraged to make bolder decisions than they did before, and are giving more batsmen out. Not only that, they are being backed up by the technology. The days of playing with the pad are gone.
England now need to play positively, possibly repeating what happened on the third morning in Abu Dhabi when Stuart Broad played some shots.
If they can get another 100 runs, you feel that would be a lead that should be enough to win the game because I cannot see Pakistan getting a huge total in the second innings.
The most likely scenario is that England will be chasing a target of Abu Dhabi-like proportions to win the game, and they will be hoping they do rather better than they did there.
You can listen to daily highlights on BBC 5 live sports extra, and listen to Jonathan Agnew and Geoff Boycott's review of the day's play on the TMS podcast.