Mohammad Amir offered psychological help after prison release
Last updated on .From the section Cricket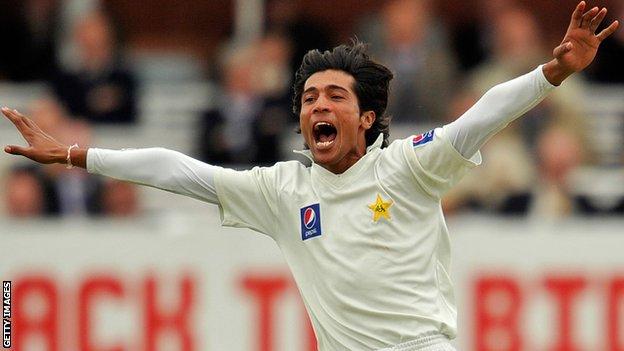 Pakistan bowler Mohammad Amir will be offered psychological treatment following his release from prison - ahead of a possible Test return.
Amir, 19, served half of a six-month jail sentence for his part in a spot-fixing scam against England in 2010.
Zaka Ashraf, chairman of the Pakistan Cricket Board, said: "Psychologists will be there to change his mind to think whatever happened was a mistake.
"Then we might want to consider him to play for Pakistan again."
Amir was released from Portland Prison in Dorset on Wednesday morning after he was jailed in November last year, alongside team-mates Salman Butt and Mohammad Asif, for a plot to bowl deliberate no-balls in a Test match at Lord's.
All three players were given five-year playing bans by the International Cricket Council.
Ashraf, who believes Amir will appeal against the decision to the Court of Arbitration for Sport, insists the PCB will not abandon the teenager during his ban.
"The British court has sentenced them and we are waiting to see whether the ICC decision has been imposed on them. We have to legally examine that," Ashraf said.
"The players might appeal against the ICC decision. Then we will see how long the ban is when that is over.
"But when he [Amir] is not playing we would like to give him psychological treatment so things would not be repeated again.
"He's a great talent. He's a young boy and I've seen Wasim Akram saying he has this talent now which can be developed later on."
Ashraf, a senior banker, replaced Ijaz Butt as the PCB's chairman in October last year and has introduced a raft of measures to combat corruption.
He said: "We have introduced education - we use psychologists to give education to our players to teach them what is good and what is bad for them.
"Then we have got a senior officer of security moving with the team. He's keeping a very strict eye on the players' movement, wherever they go, who they're meeting so they're not allowed to meet everybody.
"We have kept those areas out of bounds. Then we have control of their telephones and mobile telephones. They are the measures we have taken."