Cricket nations urged to tour Pakistan
Last updated on .From the section Cricket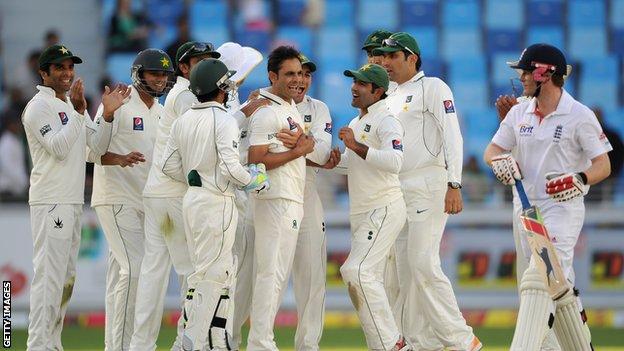 Pakistan Cricket Board chairman Zaka Ashraf has urged other Test nations to aid the sport's fight against terrorism by resuming tours to the country.
The United Arab Emirates is hosting Pakistan's home series against England.
"It is high time the international community should come and help Pakistan by thinking about bringing back international cricket," Ashraf said.
"If we're fighting their war against terrorism then we need their help to come and help us."
The Bangladesh Cricket Board will send a security team to visit Pakistan next month ahead of a potential series between the two nations in April.
International Cricket Council chief executive Haroon Lorgat said the governing body will also carry out its own assessment before sending match umpires and referees.
"One of our priorities is to get international cricket back to Pakistan - that's what we're really working on," Ashraf said.
"We're grateful to the Bangladesh Cricket Board and Bangladesh government for sending security people and deciding on the plan. Hopefully we will have the cricket team back in April.
"That will be the turning point and break the ice in international cricket's return to Pakistan."
Ashraf, who replaced Ijaz Butt as the PCB's chairman in October last year, said he has already been contacted by "two or three" other countries about touring Pakistan if Bangladesh's proposed visit is successful.
He has already targeted a series between Pakistan and India, with the neighbours not playing since the Mumbai attacks.
Ashraf added: "I would dearly love to see the game back again between the two great nations. An India and Pakistan series has the greatest passion between both countries."