Pakistan v England: Jonathan Agnew column

By Jonathan Agnew
BBC cricket correspondent in Dubai
Last updated on .From the section Cricket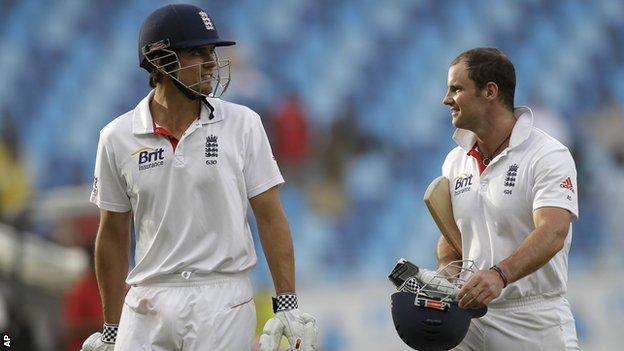 History would suggest that an England victory in the third Test against Pakistan in Dubai is most unlikely.
However, thanks to some good spin bowling and a gutsy effort from Andrew Strauss and Alastair Cook in the 20 overs before the close, they have given themselves a chance.
It is entirely down to the batsmen to get out there and follow the examples of Pakistan centurions Azhar Ali and Younus Khan.
I don't want to hear the England players talking about playing their natural games. There are times when you just need to get your head down and work hard.
Strauss, Cook and Jonathan Trott all play like that naturally and, if those three can get England on the way, there is no reason why they shouldn't do it.
But you look at the way Kevin Pietersen, Ian Bell and Eoin Morgan have been playing and you wonder whether it is going to be possible.
It is very important that, whatever happens tomorrow, England front up and fight. If they just collapse and fall over in a heap just after lunch, it will be a very disappointing performance and there will be all sorts of questions raised about people's places for the Sri Lanka tour in March and April.
But, at least if they show the right spirit, the right approach and show that they have learnt something from their experiences here, they will have something positive to take away from the series.
The fact that England still have a chance to win the game is entirely down to their bowlers, who did brilliantly to skittle the last seven Pakistan wickets for 34 runs.
Monty Panesar took four wickets and Graeme Swann claimed three and there is a healthy competition developing between the pair of them.
Monty has been fortunate in that there are many more right-handers in the Pakistan team than there are left, so that gives him a head start over Swann in this particular contest.
But that is taking nothing away from Monty, who has bowled very well indeed. He can still be a bit predictable, but he does give the ball a big spin, he is accurate, and he is the one Strauss tends to go to first.
For England to stay at number one, they do have to be more flexible and, if that means going with Panesar when you are playing someone like Pakistan, with only one left-hander in their top six, then you should do it, even if Swann has taken four wickets against a team full of left-handers in the previous match.
England have also shown they can be effective with two seamers and two spinners and, if Tim Bresnan is fit for Sri Lanka, that will give them a third seam bowling option as well.
England would not be facing such a tough task if it hadn't been for the dogged efforts of young Azhar, who scored 157 in Pakistan's second innings.
He occupied the crease and barely played a shot in anger, only striking 10 fours and a six in 442 balls.
Azhar has a great temperament for a kid of his age and you could not fault any aspect of the way he played.
It was a well-composed, very mature innings of the type suggesting that, if he continues to bat at number three, he is going to score a lot of runs and people are going to have to work out a way of getting him out.
You can listen to daily highlights on BBC 5 live sports extra, and listen to Jonathan Agnew and Geoff Boycott's review of the day's play on the TMS podcast.